New York Is The First State To Officially Ban Gas Stoves. It Won't Be The Last
New York State just trailblazed into a new era of construction.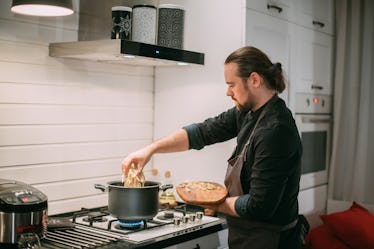 Shutterstock
It's official: New York just became the first state in the U.S. to ban gas stoves. The law prohibits natural gas and other fossil fuels in new construction in both single-family homes and large apartment buildings.
According to CNN, Gov. Kathy Hochul, who led the push for new legislation along with fellow Democratic lawmakers, approved the new provision on May 2, which is included in the $229 billion state budget.
"Changing the ways we make and use energy to decrease our reliance on fossil fuels will help ensure a healthier environment for us and our children," New York Speaker Carl Heastie said in a statement.
The new ban prohibits gas-powered furnaces, stoves, and propane heating while promoting the adoption of eco-friendly alternatives such as heat pumps and induction stoves in the construction of most new residential structures throughout the state. The new law requires all-electric heating and cooking in new buildings up to seven stories by 2026 and by 2029 for taller buildings. Hospitals, stores, restaurants, and other large commercial and industrial buildings will be exempt from the requirements.
New York isn't technically the first state to ban gas stoves in new constructions. Other regions and states have taken up the cause on their own, just not through legislation. California's approved or scheduled bans are on a local level — with cities leading the charge. Per USA Today, Maryland and Colorado also "have either approved or scheduled measures that will require new construction to be all-electric." Washington State just approved building code changes that would favor heat pumps over furnaces in most new construction.
The ban on gas stoves comes amid growing research that points to the dangerous health outcomes linked to fossil fuel use in the home. One study found that approximately one in eight cases of asthma among children in the U.S. can be attributed to emissions from gas stoves. Another study found that known carcinogens and toxic chemicals leak from gas stoves, even when they're not in use. The Consumer Product Safety Commission is even looking at gas stoves as a health hazard.
Although other states may step up to the plate to ban gas stoves in new construction, at least 20 GOP-led states already have laws on the books pre-emptively banning, well, bans on natural gas.
If you're looking to replace your gas stove, you could get up to $840 in a federal tax credit to upgrade to an induction range if you qualify for a rebate offered through Biden's Inflation Reduction Act.
If replacing your stove is out of reach, or you're a renter and can't control which appliances are in your home, there are a few things you can do to reduce exposure to the chemicals released by gas stoves. Having a vent hood fan or an exhaust fan turned on that keeps the air moving when using your range helps. You can also use a box fan to increase air movement and keep a window open when the stove is in use.