The CPSC Is Considering Banning Gas Stoves
Gas stoves have been linked to a host of health issues for kids. A ban on them might finally be on the table.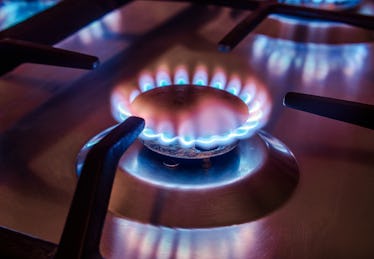 Shutterstock
The Consumer Product Safety Commission (CPSC) is considering a big move to keep pollutants out of homes and the environment. They could axe one common household appliance by banning natural gas stoves.
"This is a hidden hazard," Richard Trumka Jr., a CPSC commissioner, told Bloomberg. "Any option is on the table. Products that can't be made safe can be banned."
The literature on the harm that gas stoves pose to families is mounting. Numerous studies have documented the health hazards posed by gas-powered stoves, which are present in close to 40% of U.S. homes. Gas stoves have been linked to respiratory issues and some cardiovascular problems.
For example, a recent study found that almost 13% of childhood asthma cases are caused by the presence of a gas stove in the home. "Short-term exposure to NO2 is linked to worsening asthma in children, and long-term exposure has been determined to likely cause the development of asthma," wrote federal lawmakers in a letter to Alexander Hoehn-Saric, Chair of the CPSC.
Even when not in use, these popular cooktops and ranges leak hazardous chemicals such as methane, nitrous dioxide, and cancer-causing benzene into homes, putting families at risk by increasing indoor air pollution to levels determined to be unsafe by both the Environmental Protection Agency and the World Health Organization.
The CPSC has been looking at various actions to protect people from the dangers posed by gas stoves for months, and options include issuing an outright ban or regulations for emissions from gas stoves. The agency plans to establish a public comment period within the next few months to help determine the best and most reasonable course of action.
Nearly 100 cities and large metros — San Francisco and New York among them — have already taken steps to ban natural gas in new construction.
But, according to reporting by CNN, 20 GOP-led states have issued preemption laws that effectively ban the banning of natural gas.
Maybe unsurprisingly, when it comes to toxic emissions, appliance industry lobbyists say the solution lies in better ventilation systems in homes. However, they fail to address the logistics of accomplishing this, which is especially pertinent since Black, Latino, and low-income families are more likely to live in homes with poor ventilation, creating what Senator Corey Booker called a "cumulative burden" on already marginalized communities.
The American Gas Association, an industry group, says there is no proof that gas stoves are harmful to health despite the glut of peer-reviewed studies that say otherwise. "The U.S. Consumer Product Safety Commission and EPA do not present gas ranges as a significant contributor to adverse air quality or health hazard in their technical or public information literature, guidance, or requirements," American Gas Association President Karen Harbert said in a statement. "The most practical, realistic way to achieve a sustainable future where energy is clean, as well as safe, reliable and affordable, is to ensure it includes natural gas and the infrastructure that transports it."
There may be some cash incentive for consumers interested in making the switch from gas to electric. Thanks to President Biden's landmark climate bill, the Inflation Reduction Act, which was passed last year, tax credits and rebates of up to $840 are available for those who purchase a new electric stove or range.
And for those who are concerned about the danger that natural gas stoves may pose, but don't exactly have hundreds of dollars on hand to shell out to replace their major appliances, some simple steps can be made to reduce the harm they pose. Always use a kitchen ventilator if you have one while cooking. You should also consider opening any kitchen windows while cooking, if you have them, and using a fan, too.