Looks Like NBA Player Baby Names Are Blowing Up Around the Country
Luka, Kobe, Giannis. People love their GOATs.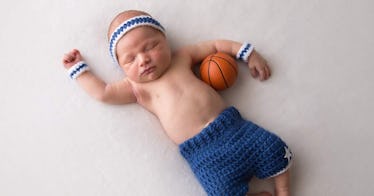 Baby-names go through trend cycles. While Karen and Linda once reigned supreme, those names are firmly out, a Boomer-era bygone that have been replaced with simple, old-school names like Liam, William, Oliver, Charlotte, Harper, and Olivia.
These beautiful but simple names may be uber-popular at the moment, but there are so many more names that go beyond the top five baby names in the United States every year, that are equally popular but won't be seen in every classroom across the country. Those names? Those of NBA players, apparently.
For example, Kobe Bryant, who tragically passed away in early 2020 with his daughter, Gianna, in a helicopter accident, has been honored by parents across the country who chose to name their child after him. The name became the 216th most popular baby boy name in 2020, and his daughter Gianna — a basketball phenom in her own right — became the 24th most popular baby name for the year 2020 by October last year.
But more than honorary tributes to GOATs who left us too soon, other parents are naming their children after NBA stars who are just starting out in their careers but who are promising to change the game forever. For example, the name Luka — modeled after Luka Doncic, a break-out Dallas Mavericks star (Go Mavs!) who is vying for an MVP shout-out — has been growing in popularity since the European wunderkind made his debut in the NBA.
According to the Dallas Morning News, the name has tripled in popularity across the country (not just in North Texas) since he made his debut in 2018. From being the 404th most popular baby boy's name in 2017 to rising to 163rd in 2020, some 2,319 baby boys were named Luka in 2020 alone.
And the same outlet reports that the name Giannis, after Milwaukee Bucks player Giannis Antetokounmpo, has become locally quite popular with Wisconsinites, though his career is far from over.
This is no new trend — names like Brady, and other uber-popular athlete's names, have always exploded in popularity when a professional athlete is crushing it. But it's always fun to see, and it's a little bit more interesting than all of the Liam's in the world (sorry!)
This article was originally published on