'Nation's Report Card' Shows Historic Declines in Reading, Math Scores
And no, we can't blame COVID for this one.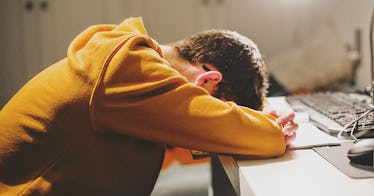 For the first time in the almost 50-year history of the Nation's Report Card, math and reading test scores for American 13-year-olds declined. And while it's tempting to chalk up the drop to COVID-related interruptions to schooling, these results actually predate the pandemic, pointing to deeper problems in American education.
The National Assessment of Educational Progress, as it's formally known, includes a nationally representative sample of public and private school students from across the country. The most recent results of the NAEP's long-term assessments, released Thursday, compared scores for nine- and 13-year-olds who took the test during the 2019-20 school year (pre-school closures) to students the same age who did so in the early '70s and in 2012.
"This was the first time in the almost 50-year history of the long-term trend assessments that we observed declines among 13-year-olds," said National Center for Educational Statistics Commissioner Peggy G. Carr in a statement. "These performance drops are especially notable among lower-performing students, who no longer demonstrate competency in skills that students were able to do almost a decade ago in both subjects and age groups."
Math scores for 13-year-old students in the 10th, 25th, and 50th percentiles declined while those in the 75th and 90th percentiles remained the same. Reading scores for the same students declined only at the 10th percentile, which was still enough to drag down the overall score.
In other words, while today's top-performing students tested about as well as the top performers did in 2012, the students who are struggling today are struggling more than those who were struggling when they were 13 in 2012.
Even the better news—that nine-year-old scores in math and reading stayed the same—isn't exactly good. Shouldn't your goal in running an educational system be for those scores to improve over time?
While far from a complete picture of what's happening in America's schools, that NAEP scores slipped for the first time in history is an ominous sign. And that lower-performing students today are struggling more than lower-performing students did nearly a decade ago suggests that the gap between low- and high-performing students (a gap that all too often reflects a gap between poor and rich students and students of color and white students) could be growing. And that's bad news for everyone.