The Baby Names Increasing Fastest in Popularity for Generation Alpha Are Super Unique
The baby names for Generation Alpha that are growing the fastest in popularity are a rejection of all the Harpers and Roberts of the world.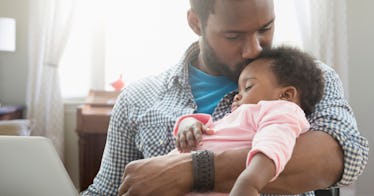 Jose Luis Pelaez Inc / Getty Images
There are so many factors that influence which baby names will spike in popularity. We know that pop culture, TV, and actors play an influence. But events and societal shifts play a role, too which is why we have popular generational names. For the Baby Boomer Generation, names like Robert and Mary were popular. Generation X had Chad and Tonya; Millennials are Kyle and Britney. For Generation Z, the popular names for the generation started to shift to more unique names like Aiden and Addison. Popular names for late Gen Z and Gen Alpha have become super traditional: Emma, Ava, Liam, Harper. But the baby names that are increasing the fastest in popularity for Generation Alpha are super unique, and that's not by accident.
Baby name website Listophile set out to determine which baby names from Generation Alpha – those born between 2013 and 2025 – were trending and standing out as most popular. To do this, they collected datasets from the Social Security Administration between 2010 and 2020 and had a list of more than 36 million baby names. Those names were then ranked in order of the largest percentage change of popularity, AKA names that went from obscurity to being more commonly used the most. Though they're not the most popular baby names on the list, they are the trendiest. "This sizable dataset gave us a unique insight into popular styles and distinct naming trends of Generation Alpha babies," the site explains.
The results show that there are some interesting trends that are being followed for parents naming their Generation Alpha kids. The names are unique in every sense of the word. The names are ones that we don't often hear at all, and even if a classic name is chosen, the spelling is altered to make it stand out.
"Interesting, the study found the growth of unique baby names for girls is far more amplified than the growth of unique baby names for boys," the site explained. "Listophile attributed this trend to the strong desire of parents wanting to empower their daughters."
Here are the baby names for boys increasing the fastest for Generation Alpha babies:
Niklaus - Niklaus is currently the 839th most popular name amongst U.S. births.
Kyro - Kyro originates from Arabic and Greek origins and is considered a modern variation of the Egyptian capital city Cairo. It means "victorious one" and "the strong," and is considered gender neutral.
Jaxtyn
Amias - Amias means "beloved" and is derived from Amatus, which the Latin word for "loved."
Kiaan - While predominantly considered a variant of the Gaelic name Cian which means "ancient" or "God is gracious," it's also close to the name Kian means "benevolent king" in Persian and "essence" in Arabic.
Kairo
Kyng
Saint - Saint finds its roots in the Latin word "Sanctus," which means "holy."
Kyrie
Everest - Part of the Himalayan range, Mt. Everest is arguably the most famous mountain on Earth. Until 1865, Everest was referred to as Peak XV but was renamed for Sir George Everest, a British surveyor general of India from 1830 to 1843.
These are the baby names for girls increasing the fastest for Generation Alpha babies:
Oaklyn - While the suffix lyn means lake in Welsh, it's also popular in the United States simply for its phonemic charm. Thus, many consider "beautiful oak" as the primary definition for Oaklyn instead of "oak lake."
Ainhoa - Ainhoa is a Basque name from a place in southwest France that means Town of the Virgin Mary. While not considered the birthplace or home of Jesus' mother, it is home to a famous image of the Virgin Mary.
Marceline
Sevyn
Zhuri - Zhuri James is a rising social media sensation and daughter of NBA superstar Lebron James. The pronunciation of the name is also nearly identical to that of Shuri, who is one of the primary characters in the Black Panther films.
Bexley
Haisley
Palmer - Palmer is an Old-English name that means "pilgrim" and "he who holds the palm." Palmer was often the term given to someone who had been on a pilgrimage to the Holy Land, and is also a popular English surname.
Amoura -Amoura means "love." In 2019 it rose over 1000 places in popularity, making it the fastest-rising girl name of the year.
Oakleigh
While unique names are trending for the generation, parents of Gen Alpha kids are still selecting from traditional names. These names include Emma, Sophia, Elizabeth, Victoria, and Claire for girls. For boys, the traditional names still being chosen include William, Alexander, John, Simon, and Adrian.
This article was originally published on