For Mother's Day, It Turns Out Moms Want The Same Things Dads Want
The gifts that topped the survey list might be surprising to some, but not for fellow parents.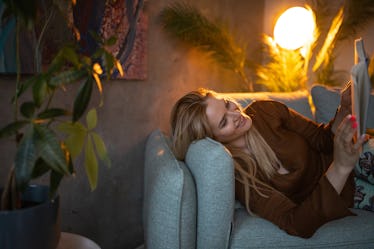 miodrag ignjatovic/E+/Getty Images
If you're still stuck for what to get your wife for Mother's Day on behalf of your kids or if you're now scrambling because you forgot, a new survey highlights exactly what moms really want for Mother's Day. The gifts that topped the survey list might be surprising to some — but for fellow parents, these survey results are ultra-validating.
A new poll of 2,000 moms commissioned by LEGO Group and Moonpig, conducted by OnePoll, found that there is one thing that moms want above all else, and it doesn't come in a box, or a bag, or with a gift receipt.
According to the poll, which was also covered by UpWorthy, 58% of moms want to be able to "drop everything" for Mother's Day and to have free time. And if they were to get that free time, it would be spent on themselves: forty-four percent of moms said they would watch some TV, 42% would like to read a book, 30% would engage in a creative activity, and 11% would practice mindfulness. Ten percent of the moms said they'd "simply like to go to the toilet in peace."
At the end of the day, the poll results show that moms are just like dads — because they're all worn-out parents who just want a break. The survey results put plainly what we should all consider doing: stop buying the moms in our lives things they don't want and give them time to step away from the stresses of their daily lives.
"With busy schedules and a constant to-do list, we understand it can be difficult for mum to find the time to reset and recharge their batteries," Zach Leung, brand manager of the LEGO group, said.
How do moms want to relax? Fifty-one percent of moms polled did say that they want to spend quality time with their family, but that probably (definitely) doesn't mean having to take care of everyone or plan anything. The moms polled said they'd love to watch movies (50%) and play games (34%) with their families. Sixteen percent said they'd like to spend Mother's Day making a new memory.
The poll also asked moms why they feel they need more time, and there were two major answers: they're busy with work (65%) or they're too busy doing household chores (58%). It goes without saying that if the mom in your life does want a specific thing, you should obviously ignore this poll and try to get that thing.
But if you're scrambling to find the right way to celebrate her this Sunday, just remember: The gift doesn't need to be over the top or extravagant — nothing will dazzle her as much as a simple act act of true inter-parental generosity and sacrifice. Take the kids out of the house so she has time and space to herself; book her a hotel room to watch TV and eat snacks in a state of glorious independence; plan a day of simple surprises you know she'll like, a fun memory-making outing with the kids. Most importantly, do the work yourself or conspire with the kids. Just don't ask her to plan a thing.