Minnesota Becomes Fourth State To Launch Free School Lunch For All
One in 6 Minnesota kids aren't getting enough to eat. The new lunch program will help change that.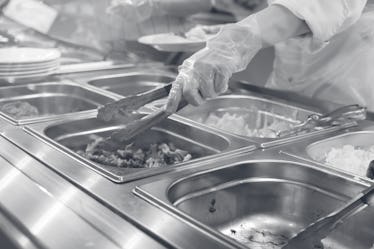 PJjaruwan/Shutterstock
Good news, Minnesotan public school students and parents. Governor Tim Walz just signed a new bill that guarantees every kid in public schools in the state can have breakfast and lunch, free of charge. Here's what you need to know.
"As a former teacher, I know that providing free breakfast and lunch for our students is one of the best investments we can make to lower costs, support Minnesota's working families, and care for our young learners and the future of our state," Minnesota Gov. Tim Walz said after signing the bill, according to KOAA News.
As reported by Minnesota Public Radio, an estimated 1 in 6 children in Minnesota aren't getting enough to eat on a regular basis. Despite that startling statistic, 1 in 4 kids who live in food-insecure households in Minnesota didn't qualify for the federal reduced and free program, which requires parents earn below a certain income threshold that can exclude parents and kids who still need help affording food. For those who had to pay for lunch but could barely afford it, this meant there were "mounting school lunch debts in the tens of thousands of dollars."
The new bill will eliminate those debts and cover all students' school breakfasts and lunches, pulling all those children out of hunger and releasing families from the mounting debt and the financial pressure of covering meals for their kids while they are at school. The new program covers only the cost of the first meal, not second helpings or the separate a la carte items.
During the early COVID-19 pandemic, the federal government extended its lunch benefits, meaning nearly every child in the U.S. qualified for free breakfasts and/or lunches, regardless of their parent's income. This move ensured kids were getting enough to eat while taking some pressure off their parents.
During the 2021-2022 school year, approximately 30 million kids a day were getting free meals, compared to 20 million before the pandemic-era change went into affect, said Cindy Long, administrator of the USDA Food and Nutrition Service, per Spectrum News. Now that the program expired, those numbers have fallen.
In addition, the temporary pandemic-era boost to the Supplemental Nutrition Assistance Program (SNAP), which provided a larger monthly benefit to food-insecure families during the pandemic, also expired at the end of February, pushing more families into food insecurity — proving the importance of bills like the one Minnesota recently passed.
Minnesota isn't the only state where parents are struggling to feed their kids due to rising food costs, but it joins a very small number of states that are helping kids and parents out at lunchtime. Minnesota will join California, Colorado, and Maine with this distinction.