Mitch McConnell Wants to End Free School Lunch for Kids
Millions of kids rely on the free school lunch program but come June those kids could be on their own.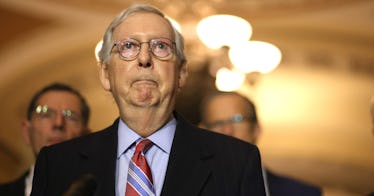 Justin Sullivan/Getty Images
The pandemic has been challenging for parents and their children. Many got by thanks to the coronavirus pandemic-era federal programs that offered additional measures to help keep families afloat. These efforts, like the child tax credit, stimulus checks, and the expanded federal free lunch program, kept food on the table for thousands of families. But in the coming weeks, that federal waiver that provides extra funding to states to provide free lunch to kids K-12, regardless of their income, is likely to expire. The popular program that has helped tens of millions of kids might simply go away. Why? Political bickering. Amid a showdown over the federal government's funding, it's been reported that Senate Minority Leader Mitch McConnell is blocking the extensions of these programs.
The Washington Post reported that as Congresspeople debate how to fund the government through its massive omnibus spending bill, several Republican lawmakers are opposed to having pandemic-relief provisions extended, including free school lunches. Now, Congress has until Friday at midnight to pass a government funding package or risk a federal shutdown. And the Republicans and Democrats don't see eye-to-eye on extending some of the pandemic-related programs — that help feed a dozen million hungry kids.
Here's What The Free School Lunch Program Does
In March 2020, when the first pandemic-related federal measures were released, Congress gave the US Department of Agriculture (USDA) the authority to increase school meal reimbursement rates when many schools moved to remote learning. The measure, which launched in April, allowed the USDA to provide an estimated 12 million children with the meals they would have received if schools had not been shut down due to COVID-19, regardless of income. These provisions will remain for this full school year, through the end of June.
12 Million Kids — And School Districts — Will Struggle Without the Funding
However, if the authority expires with Congress not approving the extension, millions of kids will lose access to food come June. "Without an extension of the waivers, schools are expected to see a dramatic reduction in reimbursements for school meals in the next school year," The Washington Post reports. "The USDA is estimating more than 40 percent in decreased funding for school lunches for an average school district."
The potential loss of access to free food for millions of children has school nutrition advocates and politicians are sounding the alarm. Not only will the program be given less funding to run, but the cost of supplies and labor is also still rising due to supply chain issues. The combination of these two problems happening at the same time is likely to have devastating consequences for kids who are required to be at school but may not be able to afford to be fed by their parents.
"No kid should have to go hungry, it's really as simple as that," Sen. Patty Murray of Washington, chair of the Senate Health, Education, Labor, and Pensions told Insider in a statement to The Washington Post. "It shouldn't be controversial to make sure our schools can keep kids fed."
Sen. Debbie Stabenow of Michigan, chair of the Senate Agriculture Committee, argued that Republican leadership in Congress "has said no and decided that they prefer to let our kids go hungry. This is a disgrace."
The School Nutrition Association has been vocal about urging Congress to approve the extension of the universal lunch program. The organization has sent 73,000 emails to Congress and has been lobbying on Capitol Hill saying providing healthy meals for kids is a vital program for kids in more ways than one.