Mila Kunis, Ashton Kutcher's Bath Policy For Their Kids is a Parenting Hack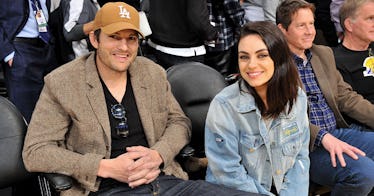 GETTY
Mila Kunis and her husband Ashton Kutcher have two kids together, 6-year-old Wyatt Isabelle and 4-year-old Dimitri Portwood.
Though both mom and dad are celebrities, they tend to keep their private lives very much to themselves. But sometimes, we get a gem, an inside peek at their lives as mom and dad. Most recently, we learned about their approach to hygiene and their kids. Specifically, bath time.
There is no single right way to parent. And what works for one family might not for another. And for Ashton and Mila, well, their hygiene habits might be different than yours. The parents-of-two were guests on the Armchair Expert podcast with co-hosts Dax Shepard and Monica Padman and shed some light on how they handle bath time for their kids.
The conversation started with Dax and Monica talking about their own shower schedules. Dax insisted Monica "should not be getting rid of the natural oil on your skin with a bar of soap every day," when she shared that she showers regularly. Instead, Dax believes you should only wash with water – and Monica seemed to be the only one who often used soap.
"I can't believe I am in the minority here of washing my whole body in the shower. Who taught you to not wash?" Monica asked, and Mila replied, "I didn't have hot water growing up as a child, so I didn't shower much anyway."
While that was the case for her upbringing, Mila said her kids also don't shower a lot. "But when I had children, I also didn't wash them every day," she said. "I wasn't that parent that bathed my newborns — ever."
Ashton chimed in to reiterate what Mila said, adding the kids bathe when they're dirty. "Now, here's the thing: If you can see the dirt on them, clean them," he explained. "Otherwise, there's no point."
While that might differ from what you do at home with your kids, Mila and Ashton are right in line with the guidelines set out by the American Academy of Dermatology Association. The organization says that daily baths are fine for kids aged 6 to 11.
However, its recommendation is that this age group bathe at least one to two times a week, extra if they're dirty or swimming in a pool, lake, ocean, or sweaty. So, if you're tired of wrangling your kids into the bath at bathtime, maybe take a page out of Ashton and Mila's book.