Michael Cera Says He Won't Show His 1.5 Year Old Son "Sausage Party" Any Time Soon
Michael Cera has been in the movie business for a while, but his kiddo doesn't know that yet.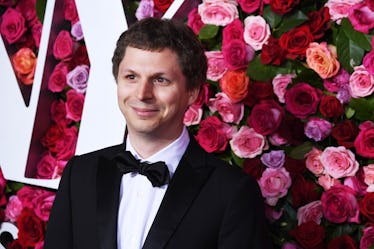 Variety/Penske Media/Getty Images
Michael Cera has been in the movie business for a while, and he's got the most eclectic, inappropriate, and hilarious catalogue of TV and movie roles as a result of his decades of work. But now that he's added "Dad" to his title, Cera says his son hasn't seen any of his movies yet, and probably won't any time soon.
Cera recently sat down for an interview with the Hollywood Reporter, where he admitted he hadn't introduced his son to any of his movies just yet.
"He's only a year and a half old, so he hasn't seen anything yet," Cera told the publication. "But I have a couple of animated movies," he added before noting that not all of his animated movies are appropriate for his kiddo. Namely, Sausage Party would come "a little later."
Cera also shared that he's changed his approach to work now that he's a dad: his family takes top priority now.
"I think the only thing that it affects is that you just want to spend as much time with them as possible," Cera said. "So when I was 20, I would have been way happier to go off to some weird city and live in a hotel for three months. And when you have kids, you want to be with your family. And you miss them a lot."
Although he's been on screen since the late '90s doing everything from cartoon voice acting to more leading roles like Superbad and Juno, Cera's private life has notoriously been kept to himself. He doesn't have a public social media presence, and he's never one to make big headlines for anything outside his movie roles.
He didn't even share that he and his long-time partner (whose full name isn't known either), had a baby, let alone that they were ever expecting. And we only know that Cera has added fatherhood to his title because his co-worker and friend, Amy Schumer, spilled the beans.
During the promotional tour for their movie Life & Beth, Schumer talked about lessons she learned since becoming a mom before looping Michael in. "Michael has a baby, too. Is that public knowledge? … I just outed him. I just outed his baby," she said.
Cera confirmed what Schumer said, admitting that he did welcome a baby who was six months at the time. And although that was nearly a full year ago, Cera still hasn't shared many details about the new addition to his family — only that his baby's a boy and he was born in late 2021.