Meet The Guy Who Went To Disney Every Single Day For 8+ Years In A Row
In late 2011, Jeff Reitz decided to take a trip to Disneyland. That became his daily routine for nearly a decade.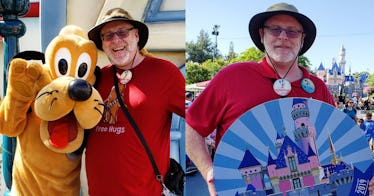 Guinness World Records
Some families look forward to a once-in-a-lifetime trip to Disney, planning, and budgeting for months to make the most of their visit. Well, one guy took the opposite approach and landed himself a Guinness World Record for most consecutive visits to Disneyland.
In late 2011, when Jeff Reitz decided to take a trip to Disneyland in Anaheim, little did he know that visiting the park would become a daily routine for eight years, three months, and 13 days. And now, he holds an official Guinness World Record.
Going to the park daily "started as a joke between friends when Disneyland announced they were giving an 'Extra Disney Day' when they announced the Leap Day 24-hour event in 2012," said Jeff. "We decided to use Disneyland as a positive as we were out of work and had annual passes that had been gifted, so it was a source of free entertainment."
And that's what he did. Reitz visited the park daily, sometimes just taking in the sights and other days enjoying the attractions. "I would usually take a walk around the park. I enjoy photography, so I was always watching for images to capture that I could post to share," he said. "Some days, I would go on lots of attractions, and other times I might focus my attention on a single section of the park."
Then, every day for eight years, three months, and 13 days, Reitz visited Disneyland, making 2,995 consecutive visits. And he made a lot of memories along the way. "Over the years, I visited Disneyland with others and did solo trips," he shared. "It got to be where my schedule was pretty constant so it depended more on others wanting to come join the fun."
Reitz had no intention to stop, hoping to make it to 3,000 days at least, but things outside his control broke his streak — the onset of the COVID-19 pandemic shut down the park.
On March 14, 2020, his daily streak ended when the park closed. He hasn't been back since then, but he hopes to plan his next visit to celebrate Disney's 100th-anniversary celebrations later this year.
"You learn a lot during the time it takes to achieve such a record," Reitz shared, "like time management and finances in order to be able to have a life and do more than just one thing."