Most Medical Debt Won't Show Up On Credit Reports Anymore — Here's Why
There's $88 billion worth of medical debt crushing 43 million Americans.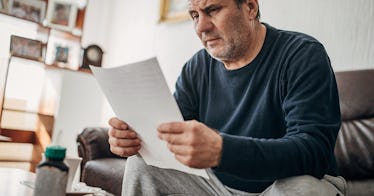 Nes / Getty Images
There is some relief on the way for people who are bogged down with medical debt.
TransUnion, Experian, and Equifax announced a change that will significantly overhaul how medical debt influences credit reports. A joint announcement by the three credit unions outlines how the overhaul will remove a massive barrier for millions of Americans by removing the majority of medical debt from credit reports.
Medical debt, which tallies up thousands of unexpected expenses when illness or injury strikes, often go unpaid until the bills go to collections. Sometimes, as well, medical debt is wrongfully metered out to people who don't owe any money — leading them to affected credit scores and more difficulty taking out loans. When people have unpaid medical debt, it shows up on credit reports and creates significant barriers, keeping people from accessing employment, housing, and credit loans.
How Big of a Problem is Medical Debt in the USA?
It's a big one. More than half of Americans carry a medical debt in excess of $1,000. A 2020 survey suggests that as of 2019, Americans held about $195 billion in medical debt.
Additionally, according to The Consumer Financial Protection Bureau, roughly 20 percent of U.S. households (different than individual Americans) report that they have medical debt, and medical collections appear on 43 million credit reports, which amount to approximately $88 billion total.
In other words, this is a huge issue. The bureau also notes that past-due medical bills disproportionally impact Hispanic and Black communities – and the two-year-long pandemic has made medical debt even worse. "As of the second quarter of 2021, 58 percent of bills that are in collections and on people's credit records are medical bills," the data shows.
What Will The Credit Reporting Change Do For People With Medical Debt?
The Consumer Financial Protection Bureau has long pressed the credit unions to reassess how these credit reports are put together – particularly when it comes to medical debt because the infrastructure is set up in a way "where mistakes are common, and where patients often have difficulty getting these errors corrected or resolved." The bureau also feels the credit reporting system "is too often used as a tool to coerce and extort patients into paying medical bills they may not even owe."
And finally, changes are coming that will help lift some of that burden in a joint change between the three major credit unions.
The first change happens in July, and it's a significant one where paid medical debt will no longer appear on consumers' credit reports. Also, the time before unpaid medical debt appears on a report would increase from six months to one year, "giving consumers more time to work with insurance and/or healthcare providers to address their debt before it is reported on their credit file."
"These joint measures will remove nearly 70% of medical collection debt tradelines from consumer credit reports, a step taken after months of industry research," the three bureaus said in a joint statement.
The statement continued, "After two years of the COVID-19 pandemic and a detailed review of the prevalence of medical collection debt on credit reports, the NCRAs are making changes to help people to focus on their personal wellbeing and recovery."
Next year, in 2023, the three credit unions will also no longer include medical collection debts that are under $500 on credit reports.
"These changes are another step we're taking together to help people across the United States focus on their financial and personal wellbeing," the joint statement added.
This likely is going to fix the medical debt problem for everyone — surprise bills will still happen, people are still struggling to afford medical care, and the United States is a woefully underinsured country. Simply put, there's a whole lot more that could be done to address the communities which are disproportionately impacted by medical debt. But it's a step in the right direction.