The Maxi-Cosi Pria 85 Convertible Car Seat Is Being Recalled
83,000 car seats have been recalled — here's how to know if yours is one of them.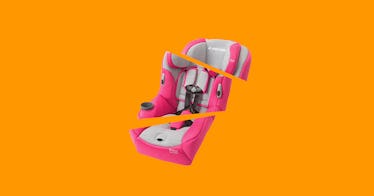 The Dorel Juvenile Group has issued a voluntary recall of 83,000 Maxi-Cosi Pria 85 convertible child car seats because larger children may not be protected in them in the case of a car accident. Here is everything you need to know.
What Are the Carseats Being Recalled For?
According to a press release from DJ USA, the Dorel Juvenile Group is "fully cooperating with the National Highway Traffic Safety Administration (NHTSA)" in recalling "certain Pria 85 and Pria 85 Max car seats" that were designed for children weighing between 14 and 85 pounds.
While the statement says that "there have been no injuries or incidents reported," children weighing 65 pounds or more could be at risk of a head injury in the case of a crash when the seat is installed in the forward-facing position.
"DJ USA's purpose is to create a confident parenting journey that nurtures children into a meaningful future – striving for excellence and caring for precious life," the statement read.
What Caused the Recall?
The recall was sparked by the Maxi-Cosi Pria 85 convertible child car seats failing to adequately restrain a dummy during an NHTSA regulatory crash test. The tests are conducted on a bench seat, using only a lap belt instead of a three-point seat belt, and without the top tether strap connected.
As a result, per Consumer Reports, a child's head could hit the vehicle interior and result in head injuries.
What Is the Solution?
At this time, the Dorel Juvenile Group has not announced a specific plan to address this issue beyond the recall and, according to Consumer Reports, they have not "provided a schedule for notifying consumers of the recall."
Check Your Recall Status
Unsure if this recall affects you?
You can contact Dorel's customer service at 877-657-9546.
The NHTSA's campaign number for this recall is 21C003.
You can visit the NHTSA's website to see whether your car seat is a part of this voluntary recall. Just enter the NHTSA ID or complaint and if a recall doesn't appear, then you should be good to go for the time being.