Throwing Out Old Mattel Toys? Mail Them Back Instead
Mattel's "PlayBack" program allows parents to send back unloved toys that could be made into new ones.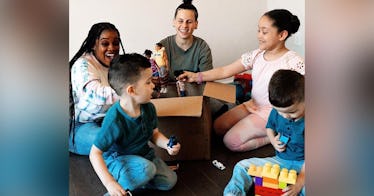 Mattel
One of the most satisfying things as a parent is purging through all the kid's toys and scale back on how much is overtaking the playroom. It also feels good to donate the gently used toys because they bring a lot of joy to kids. But what happens when the toy is broken, colored on with a permanent marker, or otherwise unusable as a hand-me-down? Mattel says instead of throwing them out, mail them back instead.
Mattel, which brings classic brands like Matchbox, Barbie, and MEGA, has launched a new program called PlayBack. This unique program allows us to send our kids' old toys from their three top brands back to the company instead of the garbage.
"Play should not have a shelf life or be tossed away," the company writes. "We design toys to be loved, cherished and passed on from one generation to the next, and we aim to make them from materials that can live on in new toys and in new ways."
Through the program, parents can send back outgrown or broken toys from Barbie, Matchbox, or MEG brands using a free print-off shipping label, paid for by Mattel. When the envelope finds its way back to Mattel, they sort through and separate the materials based on which ones can be recycled or reused.
"With Mattel PlayBack, when possible, we'll recover the materials and reuse them as recycled content in new toys," the company says. "For materials that cannot be repurposed as recycled content into new toys, Mattel PlayBack will either downcycle those materials into other plastic products or convert them from waste to energy."
In 2020, Mattel announced a partnership with TerraCycle, which allowed consumers to recycle Mega Bloks, Mega Contrux, and other non-electric Mega toys. TerraCycle cleaned the blocks and bricks and melted the plastic into new products that became playgrounds, picnic tables, and park benches.
Whether or not the PlayBack program is in partnership with TerraCycle is, so far, unclear (Fatherly reached out to Mattel to inquire, and didn't hear back as of press time. We will update the story if/when we hear back.)
The program, potentially an expansion of Mattel's previous efforts with Terracycle, remains a big financial undertaking on Mattel's part to their path toward sustainability — a pledge the company has made.
Because of the PlayBack program, it's much more likely that the toy gets ground or melted down and made into something (like those TerraCycle benches) so that it has a second life as a toy.
It's certainly not a guarantee that the PlayBack program will result in toy materials, as Mattel's own statement says, but it's likely a much better alternative than curbside recycling (91 percent of all plastic goes unrecycled, and plastic toys account for 90 percent of the toy market and most are produced from an unrecyclable type of plastic) or throwing the toy away altogether if you're not planning on donating it.
Currently, only toys from the three brands are accepted for the PlayBack program, but the company hopes to add more soon. The program is already running and is available for anyone in the United States or Canada. For more information, visit Mattel.com/PlayBack.