Mark Hamill Will Play Skeletor's Voice in New He-Man Cartoon For Netflix and Mattel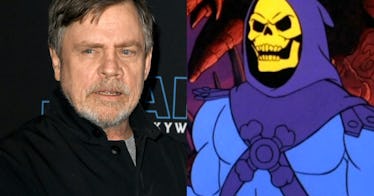 GETTY
We have the power! In what is easily the greatest news of the past several years, Mark Hamill — Luke Skywalker and the voice of the Joker in Batman: The Animated Series — will play He-Man's bone-faced nemesis in a new version animated version of He-Man for Netflix called, Masters of the Universe: Revelation.
Yes, Mark Hamill is playing Skeletor. (Just again, one more time, MARK HAMILL IS PLAYING FREAKING SKELETOR.)
This is the same new He-Man series helmed by Kevin Smith, and to be clear, it is not a reboot, but instead, a direct sequel to the beloved '80s cartoon, He-Man: And the Masters of the Universe. The rest of the cast of the show is insane, too. Kevin Conroy, who played Batman against Hamill's Joker on Batman: The Animated Series, will team-up with Hamill again, but this time, on his side as Skelator's henchman, Mer-Man. Also, of note, Sarah Michelle Gellar (AKA Buffy herself) will be playing Teela. It will be produced by Mattel — the entertainment brand that created He-Man — and distributed by Netflix.
In the original He-Man cartoon, the voice of Skeletor was played by voice actor Alan Oppenheimer. Though, in the relatively infamous live-action film, Skeletor was played by Frank Langella, who, according to some sources, still considers it one of his most important roles.
Obviously, the casting of Mark Hamill as Skeletor is brilliant, mostly because Hamill played the voice of the Joker so convincingly on Batman: The Animated Series. But, most importantly, we can now say, with 100 percent authority, that Luke Skywalker is a true Master of the Universe.
Masters of the Universe: Revelation does not have a Netflix release date yet.
This article was originally published on