It's Vasectomy Season! Grab Your Frozen Peas And Fire Up March Madness
Some clinics have same-day appointments, for what it's worth.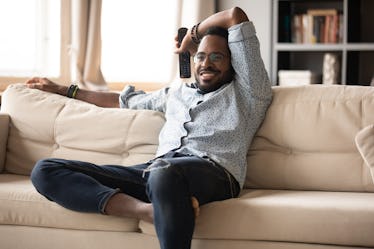 Shutterstock
March Madness has begun. Although countless college basketball fans will be glued to their screen — and couch — over the next few days, many other sports fans will be chilling on the couch with an extra accessory: a bag of frozen peas. That's because for many men, it's time to heal from a procedure that's historically timed with college basketball playoff season. That's right: It's also Vas Madness season. Here's what you need to know.
According to the Cleveland Clinic, approximately 500,000 people get vasectomies each year, totaling about 5% of all married men of reproductive age. A vasectomy is a simple sterilization procedure, providing a permanent birth control option by closing off the ends of the vas deferens, the tubes that carry sperm, preventing pregnancy.
Is There Really A Vasectomy Uptick In March?
According to ESPN, "urologists across the country have reported increases of as much as 50 percent in the number of vasectomies scheduled in the days leading [up] to the NCAA tournament." One doctor's office reported to MLive that their two most common months for vasectomies were March and December — March for basketball, December for the time of year in which most people's health insurance deductibles are met. The tale is as old as time — or at least a few decades old. The sentiment has been echoed by many doctors.
The Wall Street Journal reports that the idea of getting a vasectomy during March Madness, which has been coined "vas madness," stems from a 2008 advertisement from the Oregon Urology Institute that suggested the NCAA tournament is an excellent distraction during recovery from a vasectomy.
"March Madness draws droves of men to their television sets to watch the NCAA's college finest duke it out for the national championship," one Urology Clinics of North Texas explains. "Since vasectomies take a few days to heal and rest is needed, many men are getting them done during March Madness."
Is It Too Late To Schedule A Vasectomy For March Madness 2023?
It depends on where you live. Some states require a waiting period of approximately four weeks from a pre-vasectomy consultation before the vasectomy can be scheduled, so look up the laws where you live. If you're serious about getting a vasectomy, just make sure to schedule it around a period of time where you're able to rest and heal easily — like maybe scheduling it for March of 2024 instead.
However, a waiting period isn't a requirement everywhere — some states offer same-day appointments. So if you're serious about getting the snip, you may not need to delay.
"It appears men have found a loophole that turns one of life's more unpleasant procedures into a four-day vasectomy vacation that coincides perfectly with March Madness," ESPN writes.
What Do I Need To Know About Recovering From A Vasectomy?
Fortunately, recovery from a vasectomy typically only takes a few days. However, exercising or physical work should be avoided for about a week. You can take an over-the-counter pain medication to help with pain and should avoid wearing tight underwear. Use ice on and off. Avoiding swimming or baths for at least two days during the recovery phase of a vasectomy.
Also, just because a vasectomy feels instant, doesn't mean it is. As you heal, keep in mind that you could still be fertile for a few months after the procedure. A doctor can test your sperm to ensure the vasectomy has taken hold.
And to all the folks heading into their vasectomies over the next few days: Get your feet up, get your ice pack on, and good luck on your brackets.