Vasectomies Are Even Safer Than Previously Thought, Study Finds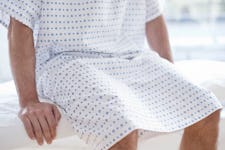 Science Photo Library/Science Photo Library/Getty Images
New evidence could encourage more men to opt for a vasectomy as part of family planning. A new study from the UK provides an updated look at data concerning risk factors and complications from the popular procedure — more than 500,000 men opt to have a vasectomy per year in the United States. Some of this data hadn't been updated since the 1980s.
A team from Gloucestershire Hospitals NHS Foundation Trust in the UK examined data from more than 90,000 vasectomies performed between 2006 and 2021 to investigate incidences of post-procedure complications. They found that many of the statistics regarding the frequency of certain complications published in current patient information pamphlets were incorrect — and that post-procedure complications, already uncommon, were far less common than previously thought.
The data was compiled from patient questionnaires completed both pre- and post-operatively. Around 77,000 people (over 80%) completed the pre-op questionnaire and around 36,500 people (just under 40%) completed the post-op questionnaire.
"This large dataset had never been independently analysed, and doing so has enabled us to update the standard complication rates, some of which dated back to the 1980s," Senior Registrar at Gloucestershire Hospitals NHS Foundation Trust, Julian Peacock, who lead the data review, said in a statement.
The team found significant discrepancies in the published literature. For example, one common statistic in patient information pamphlets started that around 5% of people who had vasectomies experienced chronic scrotal pain. Peacock's team found that the actual percentage of people who reported chronic scrotal pain after a vasectomy was 0.2%.
Infection rates and the occurrences of blood clots or scrotal hematomas were also examined. Current British Association of Urological Surgeons (BAUS) statistics state that up to 10% of patients experienced infection or blood clot/scrotal hematomas. Peacock's team found those numbers to be significantly lower — 1.9% and 1.6%, respectively.
Rates of early and late vasectomy failure were also examined. Early failure occurs when viable sperm is found in semen three months post-operatively and late failure occurs when the ends of the vas deferens rejoin and heal together. Statistics for both early and late failure did not change dramatically. The team found the numbers for early failure to be incrementally higher after the review — 0.6% compared to the BAUS statistic of 0.4%. The incidences of late failure were similarly low — 0.04% compared to the previously published 0.05%.
Though the study had a large amount of vasectomies to cull data from, the data was primarily gathered through two patient questionnaires, one sent the day of surgery and one several months after the operation. Far more patients filled out the first questionnaire than the second, so there's less data on the longer-term outcomes of vasectomies in this study.
Traditionally considered the remit of women, the burden of contraception has long been placed on the shoulders of women. But in recent years there has been a push for men to take a more active role in long-term family planning, and the idea for hormone-based male contraceptives has made waves in the media and scientific communities. There is hope that a male contraceptive pill will be widely available within the next ten years.
In the meantime, Peacock hopes his team's research will remove some of the fear and hesitation men feel about vasectomies.
"Vasectomy is a very reliable and safe contraception method," Peacock explained. "These figures might encourage more men to undergo the procedure, so we hope our research will be incorporated in the guidelines that provide information for pre-vasectomy counselling and leaflets."