This Map Shows Every State's Favorite Halloween Candy. There Are Some Shockers
Even the always divisive Candy Corn managed to win a state... everyone doing ok?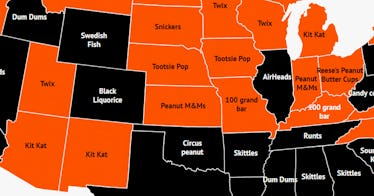 Zippia
Halloween is just around the corner which means monsters will be mashing, ghosts will be getting busted, and we will all be eating an exorbitant amount of candy.
And to get into the spirit of the season, Zippia shared a map that shows every state's favorite candy. To create the map, they used Google Trends to discover which of 50 candies were the most popular in all 50 states (sorry DC, you were left out of this one). Here are the results.
Kit Kats and Twix tied for first place, with both being no. 1 in five states. While Jolly Ranchers may have only won three states, it's certainly worth noting that the trio the candy was the favorite in (Texas, California, Florida) are the three most populated states in America, combining for over 90 million candy connoisseurs. Dum Dums, Skittles, and Sour Patch Kids also managed to emerge victorious in three states
Starburst had a disappointing showing after being the king of candy last year, only getting love from Louisiana. The always divisive Candy Corn (which I would argue is not as good or bad as extremists on both sides make it out to be) was Virginia's favorite, which is sure to piss off a lot of people.
And, of course, there were a few weird winners, like Oklahomans loving something called Circus Peanut and Rhode Islanders riding for Heath Bars, which I would argue should not even qualify as candy. But what was really most shocking is that Reese's Peanut Butter Cups only won a single state (Ohio) despite being objectively the best candy in the known universe.
So whether you reside in Delaware, Michigan, or any of the states from sea to shining sea, give this map a look and stock up on whichever candy reigns supreme in your home state in order to be the best house on your block this Halloween.