'Mandalorian' Composer Accepts His Emmy With His Baby, Dressed as Baby Yoda
The real Baby Yoda helped new dad Ludwig Göransson accept this award.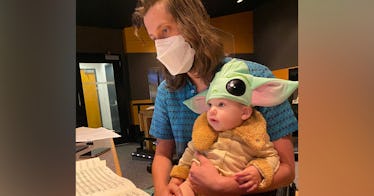 The night of Sunday, September 20th, wasn't just a regular Sunday night in America. It was also the 72nd Primetime Emmy Awards. And while the Emmys looked very different this year due to COVID-19, with most celebrities tuning in via Zoom and accepting their awards from the comfort of their homes or hotel rooms, they were still an impressively pulled off affair with some genuine laughs, upsets, and surprises. One award that was not a surprise was Ludwig Göransson's win. If you don't know him, he's the Swedish music composer and producer behind such films as Fruitvale Station, the Creed films, Tenet, and, perhaps most famously, The Mandalorian on Disney+. Last night, he won the Emmy for Outstanding Music Competition — and Deadline noted that he is "inching" towards EGOT status, only needing a Tony to take it all and join the ranks of John Legend, etc.
But the best part about Göransson's win? The Tweet he posted after the win was announced and he gave his acceptance speech. "Thank you to the Academy for this honor and for all the recognition the Mandalorian has received this Emmy season," he wrote, while thanking Jon Favreau and Dave Filoni, the showrunners behind The Mandalorian, for creating the smash-hit series that aired on Disney+ last year. But the photo he shared alongside the photo is what takes the cake. In it, Ludwig, wearing a mask and looking over his composition notes, holds his infant son, who is wearing an adorable Baby Yoda hat. Alas, the baby, and The Baby meet, at last.
This article was originally published on