You Have to See This Lego Artist's Massive Masterpiece
Toys for some, artwork masterpieces for others.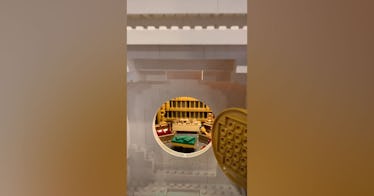 Some toys define our childhood. For some, it's Play-Doh. Others have hours' worth of memories of playing with their Barbies. And for others, it's Lego. One person found a way to bring their childhood love of Lego into adulthood, and he's helping others keep the joy, too. Meet Dante Dentoni, an Argentine artist known for his Lego art installations.
Dante is an artist who has been creating one-of-a-kind installations for a while. But recently, a video of him showing off one of his latest works went mega-viral on TikTok. Not only because it's unique, but it's really detailed and brings out our kid-like joy.
On June 15, Dante shared a video to his TikTok profile showing off his latest installment. It's not a simple Lego build. And it's way cooler than a Lego city scene display, too. This build is living and breathing in the walls of someone's home.