Study Shows Childhood Lead Exposure Hurts Kid's Test Scores — Some More Than Others
Some children are disproportionately hurt by environmental lead exposure.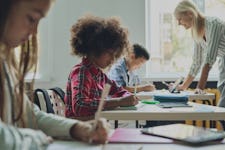 Shutterstock
A new study out of Duke University finds that Black children are disproportionately exposed to environmental lead in childhood, and this is associated with Black fourth graders having lower test scores compared to their white peers.
For the new study, researchers surveyed more than 25,000 North Carolinian fourth graders and collected data showing that Black students who lived in racially segregated communities were exposed to lead more frequently than white students. They also had lower reading test scores than white students of the same age and grade level.
The new research also found that the effects of childhood lead exposure can persist into adulthood and are predominant in racially segregated Black communities.
"This is not surprising because lead is a known neurotoxicant," Duke University's Mercedes Bravo, the study's lead author, told NBC News. "Residing in a racially segregated neighborhood was also associated with lower 4th grade reading test scores among NHB (non-Hispanic Black) children. And, critically, at high levels of segregation, the combined association of these two exposures on test scores was larger than expected."
The research, published Monday in the journal Proceedings of the National Academy of Sciences (PNAS), add to previous findings that childhood exposure to lead can lead to cognitive decline, including lower IQ, decreased ability to pay attention, and underperformance in school, according to the Centers for Disease Control and Prevention. No amount of lead in the blood is considered safe.
Lead was used widely in construction and as a gasoline additive until the mid- to late-20th century. Exposure can result in developmental delays, learning disabilities, seizures, hearing loss, and more. Previous research has found that at least half of U.S. children have been exposed to lead, but Bravo's study shows that these results are more common in marginalized communities, and among Black communities in particular.
Data compiled by the Natural Resources Defense Council shows that somewhere between 9.7 to 12.8 million lead pipes are still in use in the U.S. and are found in every state, with the highest concentrations in the Midwest and New York state. Many states have admitted to not tracking or recording lead piping, despite the Environmental Protection Agency's release of lead safety standards for drinking water more than 30 years ago. The lack of record-keeping means that these states are not likely to have encouraged or provided lead pipe remediation.
Even though the U.S phased out lead in construction and gasoline as much as 40 years ago, those living in economically disadvantaged and racially segregated communities can still come into contact with the metal. In homes built prior to 1978, lead paint was common, and in many places, lead pipes still run from the municipal supply into homes, adding lead to drinking water.
"This study suggests," Bravo explained, "that the long history of structural racism — which among many other things has produced racially segregated neighborhoods — and environmental injustice (here in the form of lead exposure) can combine to systematically disadvantage specific students and groups of students in the US."
There is a plan to deal with the prevalence of lead pipes in the United States. In November 2021, Congress passed the bipartisan infrastructure bill, which contained billions of dollars to support public works projects — including $15 billion over the next five years specifically to start replacing lead pipes nationwide, and $200 million for schools to deal with lead contamination in water. The bill is specific — the priority for addressing lead contamination in drinking water will go to lower-income households and communities. But experts suggest that $15 billion is not nearly enough funding to address the nationwide problem, and Biden himself initially proposed $45 billion to deal with America's lead pipe problem.