Over Half of Young American Kids Have Lead in Their Blood. There's A Plan to Fix it
Lead exposure can lead to long-term developmental issues in children, but this new plan may not be enough.
by Ethan Freedman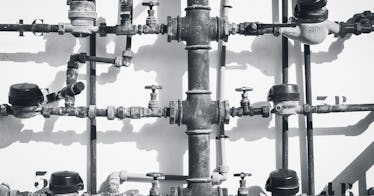 The newly passed infrastructure bill contains billions of dollars to support public works — including $15 billion to replace lead pipes. Lead pipes, scattered in cities and towns across the country, are a major public health scourge, especially for children. But while this money will go a long way toward fixing the issue, some experts also say it isn't enough.
What's In the Bill?
The new infrastructure bill allocates $15 billion over the next five years to replace lead pipes across the country. The bill also has another $200 million over the same period to help schools eliminate lead contamination in their water.
A tweet from Housing and Urban Development Secretary Marcia Fudge acknowledges this funding and notes specifically that lower-income communities generally face greater consequences from lead in drinking water. The bill specifically states that priority for addressing lead contamination in drinking water will go to lower-income and disadvantaged households.
Why Do We Need to Do This?
Lead, when ingested, is a toxin that can lead to long-term health issues, particularly in kids — including developmental issues, nervous system damage, and behavioral issues, according to the CDC.
But lead contamination in drinking water is a widespread and serious issue. In many cities, both public pipes and pipes inside people's homes are made with lead. For example, a quick perusal of a lead pipe map in Washington, DC shows that many homes in the city likely have lead in both the public and private side of their water supply.
Similar maps in places like Boston, Denver, and New York show that many homes continue to have potential lead exposures in their piping. Other cities have also been the subject of reporting on lead water issues, including the infamous public health crisis in Flint, Michigan.
A recent study found that over half of American kids younger than 6 years old have detectable levels of lead in their blood. Zipcodes in majority Black and Hispanic areas also had a higher percentage of kids with detectable levels of lead than zip codes in majority-white areas. There is no "safe" level of lead in blood.
Will This Bill Fix the Problem?
In short — probably not. According to the Brookings Institute, replacing all the lead pipes in the country would probably cost between $28 and $47 billion. Thus, while this $15 billion is definitely a step in the right direction, it's likely insufficient. Originally, President Biden had proposed $45 billion in funding for lead pipe replacement, Brookings notes.
This gap has not gone unnoticed by some lawmakers, either. Representative Alexandria Ocasio-Cortez of New York tweeted her concern about this issue over the weekend after the infrastructure bill passed, specifically calling out the President for stating that every kid will now have lead-free water.
"We shouldn't promise all lead pipes will be fixed if that is not the case. Some will, most won't. We must push for BBB," tweeted Ocasio-Cortez, referring to the Build Back Better bill, a larger spending package currently working through Congress. At least one version of that bill allocates $30 billion for lead pipe replacements, although a final deal has not been made or passed.
In addition, lead exposure in kids comes from more than just pipes. Lead-based paint and dust are the most common exposures to lead in the country, according to the CDC. The President has proposed funding programs to reduce exposure to lead paint via the larger spending package as well.
What Can I Do to Reduce Lead Exposure?
If you're worried about whether lead pipes exist in your home, you can check out your local water utility or environmental protection agency's website to see if they have any information like the maps referenced above. You can also use this test from NPR to help determine if you have lead pipes — but be prepared to find your water meter.
Knowing the age of your house can also help you understand your potential exposure, as lead pipes were banned after 1986 in the United States, according to the Brookings Institution. So, if your home was built after that date, you won't have any lead on the private side of your water pipes. But many older buildings and buildings connected to old water mains still have lead in their water — Brookings notes that approximately 7% of households on a water system have potential lead exposures.
Similar rules go for paint and dust — older homes are more likely to have lead paint, which was banned in 1978. The CDC says that you can check for chipping and peeling, as well rubbing that could create dust, and have your home tested by a professional if you're concerned.
If you have or suspect an exposure to lead, you can also get you and/or your child's blood tested. The CDC says that discussing these results with a doctor can help you figure out any potential next steps.