Kit Harington's Toddler Is In For A "Rude Awakening" When New Baby Arrives, Dad Says
Congratulations are in order for Kit Harington and Rose Leslie!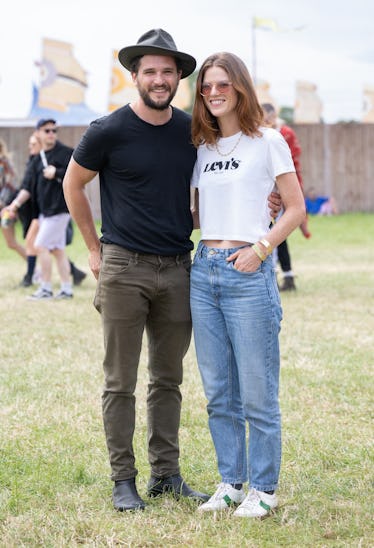 Samir Hussein/WireImage/Getty Images
Congratulations are in order for Kit Harington and Rose Leslie! Harington recently paid a visit to Jimmy Fallon and shared that he's about to become a father of two.
On Feb. 3, Harington visited Fallon on The Tonight Show, and the Game of Thrones alum shared that his home life is entering a new season. Harington and Leslie are already parents to a 2-year-old son, and they're now preparing him to become a big brother.
Telling Fallon that his son is "about to get the shock of his life," Harington got real about his fears in transitioning from one child to two.
"I'm terrified," the actor admitted. "You know, with the first baby, you're like walking on clouds and dancing through fields of daisies for nine months — well, the man is anyway. But this time, the reality check comes much shorter. You get practical real quick."
Harington and Leslie are trying to prepare their first kiddo before the new baby arrives. But he's not sure how much his son understands what's around the corner, telling Fallon his son hasn't "quite conceptually understood it just yet."
"We're trying to get him ready for it," Harington shared. "We point to Rose's tummy, and we say, 'Mommy's baby, mommy's baby.' And he points to his tummy and goes, 'My baby.' I'm quite sure that's — yeah, you'll know soon enough."
Before the pregnancy talk, Harington opened up to Fallon about his firstborn, sharing that his son is now 2 years old and is "quite smart."
"It's surprising, seeing as we're both actors," he said, referring to himself and Leslie. "We're like, we're not sure quite where that's come from."
When Harington's first son was born, he opened up about feeling disconnected from his baby at first and sparked an important conversation about how becoming a parent feels different when you're not the birthing parent.
"You are not actively involved in the process of growing the child, and there can be a real feeling of not knowing what is going on, what emotions are happening, what the mother or your partner is going through," he shared.
"I knew I was going to care for the baby I had," he admitted, "but I don't know whether it was instant love." Harington added, "It was a stranger that had been planted into my house, now I had to look after the stranger, and the stranger was keeping me up all night," he said.
Harington shared that after a few months, he was in a different headspace, having spent time getting to know the new human in his life. And now, at 2 years old, his son has developed smarts and personality.
"He likes applause," Harington told Fallon. "Every time he does something good, we give him applause, and we're worrying that's kind of pushing him towards acting. We're a bit like, 'Eh, you might be too smart for this. Go save the word, we're sick, we had no choice.'"
Check out Harington and Fallon's full conversation on YouTube.