Keegan Michael-Key's Wife Asked Him A Question That Changed His Life
It's so "Key" to have your spouse in your corner. (Pun intended!)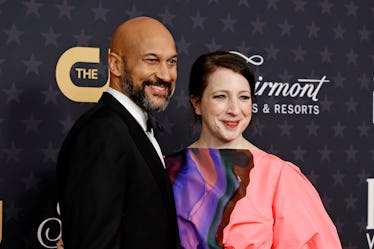 Frazer Harrison/Getty Images Entertainment/Getty Images
Most of us know Keegan-Michael Key for his incredible knack for making us laugh while also thriving at acting and singing. Recently, he sat down with Drew Barrymore while a guest on her talk show and opened up about the most important question his wife asked him that really changed the course of his career goals — for better.
Key sat down with Barrymore on The Drew Barrymore Show, when Key brought up a memorable moment Key had with his wife, Elle, years ago. At the time, she asked what his plans were when Key & Peele came to an end.
"She asked me a question I had never heard before in my life," Key told Barrymore. The question she posed had to do with how he sees himself — hinting if he changed his way of thinking, his future goals might become clearer.
Key continued, adding the question Elle posed years ago: "If there were stories that you made up about yourself, about why you couldn't do something — if those stories weren't there, what would you do? What would I want to accomplish if I was not getting in my own way?"
Later in their conversation, Key shared another example of how his wife is the biggest supporter of his career — and it had to do with his role in Schmigadoon!
"You told me once when I was with you and Elle, and I think we were actually on a phone call on speaker at this point," Barrymore recalls to Key. "You were singing somewhere you weren't supposed to sing ... what happened?"
Key explained that during his wedding to Elle, which took place in 2018, he sang her a song, which prompted another sound piece of advice Key still holds with him. "During that time, Elle was saying to me, 'You enjoy singing so much, maybe you should sing more.'"
He went on to share that when he thought about what Elle said, he realized she was right. "She was so encouraging in this endeavor of me singing more," Key said.
"And now, the last few projects I've done, I'm singing in them. This is because my wife said, 'Why don't you sing a little bit more?'"
You can watch the full segment on The Drew Barrymore Show's YouTube channel.