Coolest Dads 2019: Jordan Peele and the Dads Changing America
Ultimately, the most important thing we leave for our kids is a legacy. These men's legacies will last.
by Fatherly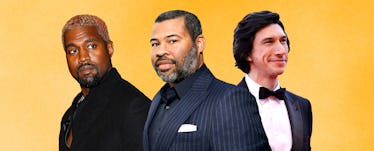 GETTY
In the age of angel investment, the only thing left to disrupt is family dinner — or the idea of disruption. That's a bit meta, but the reality right now is that the most radical thing an inventor, entrepreneur, or artist can do is cut the gimmicks and the cleverness and the genuine bloodsucking fraud and, instead, deliver something that's just plain better. Better made. Better thought out. Better. That's what the men on this list do, and that's why everyone in their very different spheres of influence wants to pass them the ball.
A lot of ink has been spilled on the idea that we live in the age of the scam. But we also live in the age of the real deal. These guys are the real deal and they are going to change our culture and our world for the better.
Jordan Peele
Cool Dad Job: Auteur
Latest Cool Dad Achievement: Releasing Us and rebooting The Twilight Zone.
Jordan Peele is one of the things that goes bump in the night. The man who redefined horror by splicing it with comedy and trenchant political commentary started the decade bouncing off his buddy Keegan-Michael Key before making one of the most unexpected Hollywood pivots of all time with his bombshell 2017 directorial debut, Get Out. Now, he's the standard-bearer for ruminative horror. Which made it only natural that he'd step into Rod Serling's loafers on The Twilight Zone. (Just for the sake of comparison, imagine Fred Armisen quitting Portlandia and running an Outer Limits reboot.) The new show hasn't received uniformly positive reviews, but — like everything Peele does — it's fascinating and demanding of its viewers. And when he's not filming, Peele is looking after comedy royalty. He and his wife, Chelsea Peretti, best known for stealing scenes on Brooklyn 99, have a 2-year-old son Beaumont, who has — it's probably safe to assume — some serious chops.
Adam Driver
Cool Dad Job: Down-to-Earth Hollywood Star Warrior
Latest Cool Dad Achievement: Leading off 2019's most unlikely doubleheader, Noah Baumbach's Marriage Story and Star Wars: Rise of the Skywalker.
Adam Driver made his name playing shirtless Brooklyn bad boy Adam Sackler on Lena Dunham's oh-so-self-aware HBO series, Girls, and drove Twitter into a tizzy with a bit more toplessness in Star Wars: The Last Jedi. But Driver isn't merely a pretty face/chest, he's a United States Marine (no such thing as an ex-Marine), a serious actor capable of going toe-to-toe with Scarlett Johansson, and an accomplished activist. His nonprofit, Arts in the Armed Forces, which encourages service members to use art to express themselves, has been quietly doing important work for years. Driver is also a private citizen. He and his wife, Joanna Tucker, live in Brooklyn with their son, Jack, but you won't see the kid on Instagram any time soon. On screen, Driver demands attention. In his personal life, he demands privacy. We can respect that.
Kanye
Cool Dad Job: Preacher, Rapper, Designer, Cultural Presence
Latest Cool Dad Achievement: Popularizing his weekly Sunday Service religious events.
Everyone likes the old Kanye. Everyone likes the set-on-his-goals Kanye. Not everyone likes the new Kanye, the bad mood Kanye, the spaz-in-the-news Kanye. But Kanye isn't trying to please everyone. Kanye is on a mission — albeit maybe not a perfectly planned one — to find his own truth. Watching him stumble on this path can be cringe-y at times, but there's a profoundly admirable integrity to his consistent inconsistency and his willingness to be wrong while trying to get it right. Sure, he could throw straight heat, but Kanye has gone gospel with Jesus Is King, converting to Christianity along the way. It's an unexpected move, but a humane one. The thing about Kanye is that he's Kanye — all the time — and that means he's not doing it for you. That said, he's not just doing it for himself, either. The thing about Kanye is that he prioritizes his kids. Ink is spilled on the man daily, but he doesn't let it drip on his children. "I would do anything to protect my child or my child's mother," Kanye told the New York Times in 2013. "As simple as that." Even as he's changed, he's been true to his word.
Mark Reigelman
Cool Dad Job: Playground Architect, Public Artist, Creative Dude
Latest Cool Dad Achievement: Installing Echo Chamber, an interactive musical instrument, at George Washington University.
As the mind behind Brooklyn's Sweetwater playground, Reigelman has provided thousands of New York City kids (including his own 17-month-old daughter) with the best playground experience of their lives. But Reigelman doesn't just do play structures. His work runs the gamut from a gigantic reading nest installed in Cleveland to tiny cottages affixed to city walls in San Francisco to pyramids of Technicolor barrels in Louisville. The man helps kids play and reminds adults how play can represent a way to enter and humanize the world.
Hugh Herr
Cool Dad Job: Bionic Man
Latest Cool Dad Achievement: Promising to "eradicate human limitation and disability," meaning it.
The head of the biomechatronics group at MIT Media Lab, which is not a secret evil organization in a Michael Bay movie, Herr's job is to figure out how technology can augment biology. In that capacity, he has published more than 150 peer-reviewed papers and patents while becoming the face of the movement to make bionics part of everyday life and, in so doing, give people with disabilities the freedom they deserve. A double-amputee himself — he lost his legs to frostbite on a mountain in New Hampshire when he was 17 — Herr puts his body where his mouth is. He's currently training to run the 2020 Boston Marathon. He's also introducing his daughters, whom he calls "little Amazons," to the joys of hiking.
This article was originally published on