Kai Lenny Is Chasing The World's Biggest Waves — And Now, Twins
The greatest big-wave surfer has his sights on legendary waves — and his two little girls, now along for the ride.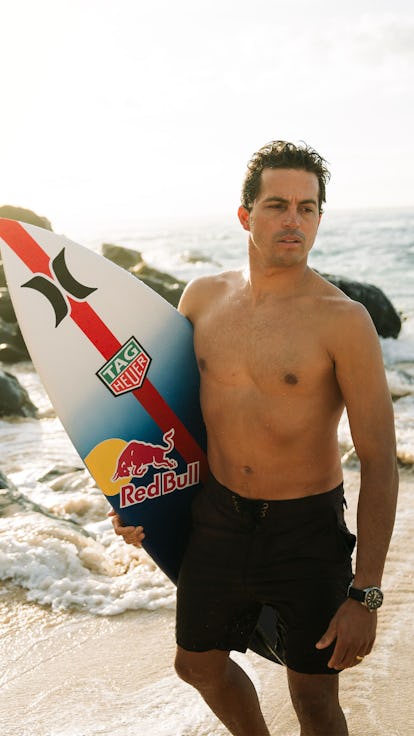 It's early on a Saturday morning, the first weekend of May, and Kai Lenny — the Maui-born, 30-year-old professional big wave surfer — apologizes for cutting our conversation short. A massive storm in the Southwest Pacific is sending 55-knot winds over a narrow band of ocean on a nearly perfect track for the southern tip of Tahiti. That intense energy, traveling over 2,000 miles of ocean, had built a swell so massive that the island's high commissioner has issued a rare Code Orange warning, closing Teahupo'o Harbor and shutting down all aquatic activities on the island. Kai Lenny needs to be there. The $1,000 fine for defying the Code Orange order is not enough to keep him away. The wave at Teahupo'o (pronounced Cho-pu) is a freak of nature. Steep, thick-walled death caverns breaking over fields of razor-sharp coral. Teahupo'o on a big day has been described as "a war zone," the waves as "liquid napalm" that detonate on the reef. But this is what Kai does — and what he needs to do right now. The swell is set to peak on Sunday, promising the best waves of the season: 25- to 30-foot faces.
In the water, Lenny displays an awe-inspiring sense of freedom: He can do whatever he wants, go wherever he wants. His approach to XXL surf is characterized by creative lines of attack and aerial maneuvers previously only seen on snowboard slopes and skate ramps. Thanks to his skill as not just the world's most exciting surfer, but also currently the world's greatest waterman, with guts and a winning personality to boot, he's a budding media juggernaut. That translates to countless viral videos, over a million Instagram followers, a reality web series Life of Kai, and a breakout spot on HBO's docu-series 100 Foot Wave.
The growing legend of Kai Lenny and the foundation of his expanding footprint are tied closely to his sense of hustle. He is a master of the tight turnaround. A 15-hour stopover in Portugal to surf 70-foot waves at Nazare. A day in the Alaskan backcountry to snowboard vertical peaks with Travis Rice, for Red Bull. A quick stop in Southern California to shoot a boardshort ad for Hurley. It is the "professional" part of being a professional athlete, and Kai is both particular and ambitious. "I was always taught to stay humble, stay grounded, work on the basics. If your sponsor asks you to do a signing for a bunch of kids at a shop, you're always the first one there and the last one to leave. And you make sure that every kid leaves stoked." And when there are scary red blotches on the weather radar crawling toward Teahupo'o, you go.
These days, Kai Lenny is looking over his shoulder more than usual. The waves still call, his greatness continues to peak, but he's got two new projects at home that are making him think on the future, about what brought him here. "You become a product of your environment where you grow up," says Lenny, talking about his twin girls who recently turned 1. "I don't know if in our group of people that we interact with, if there's any kid that doesn't love the water and love riding wind or waves."
As Lenny's friend (and also his surfing hero) Dave Kalama puts it, "As a young kid we looked to the guys ahead of us. Every following generation you want to outdo the generation before. It's a dynamic progression that is unfolding as we speak, and Kai is leading that charge. He knows that he has to take risks, that he's going to take lumps, that it's going to be painful." And Lenny knows his kids, though toddlers, are watching too, the rising generation unfolding in real time.
Before we had kids, I never worried about what he was doing. Never second-guessed it.
Last April, Kai and his wife, Molly Payne, welcomed twin girls, Willa and Senna. Kai created a viral moment around the gender reveal: Towing into a 15-footer, he pulled the pin on a smoke canister and rode the wave in a cloud of pink.
Like Kai, Molly grew up on Maui. She is an avid surfer, and both her brothers surfed competitively. In fact, her brother, Dusty Payne, was the first Maui native to ever make the World Tour. Molly grew up immersed in the culture of competitive surfing. "I understood that when you chase swells for a living, trips come up on 12 hours' notice." She understands the nonstop grind of trying to become the best. And she intimately understands the consequences and risks: In 2018, Dusty paddled into a 6-foot wave when the wave picked him up, sucked him into the lip, and drove him head-first into the shallowest section of the reef. He fractured his skull and broke his jaw. He spent weeks in intensive care.
The incident has yet to chip away at her unwavering support or participation in the sport. "It has been amazing to watch Kai step up and grow into the role of a father," says Molly. "He's so plugged in and present. As a pro athlete, he occupies such an ego-centric world. Pro surfers are a pretty self-centered macho bunch. But after adding two babies to the mix, Kai has this recognition that now there are three other people who depend on him. He's become so much more calculated in his approach to risk. He's thinking about cause and effect."
Kai has said that having kids has only made him want to push harder. But he works at mitigating risk too. "I do breath-hold training, I go to the gym every day, all my equipment is so dialed in. I take care of all the things that I can control."
That risk calculation is clearly in effect. After our call, Kai arrived at a bed in Tahiti by 2:30 a.m. He managed three hours of sleep and found himself on a jet ski, ready to surf, by 6 a.m. He spent the next eight hours in the water. The waves were in the 30-foot range, which is big for there. (It's not so much the height of the wave at Teahupo'o as it is the volume of water.) And it was crowded. At least one surfer got seriously hurt. Kai surfed until mid-afternoon and decided he'd had enough. He checked the forecast and saw a swell on the wane and decided to cut his trip short and fly back to his family. Kai was already en route to the airport when a flash flood swept through the village, carrying away cars and homes, and destroying the restaurant where Kai ate his lunch just hours prior.
After 48 hours at home, Kai was headed back to the airport, bound for Bali, Indonesia — this time for a long vacation with the family. He had his usual assortment of watercraft with him, but also a double stroller. The Lennys survived the 24-hour door-to-door journey by booking the girls their own seats on the flight to make napping easier. They brought blankets and stuffed bunnies and extra bottles and an iPad fully loaded with songs by Ms. Rachel and old Barney & Friends episodes.
On vacation, Kai surfed, foiled, and stand-up paddled at Uluwatu. He spent a day with volunteers, removing hundreds of pounds of trash from a river with New Earth Project, a sustainable food packaging company. Kai gave Willa and Senna their daily swimming lesson in the shallow tide pools by the villa they rented. "With the girls, he's Mr. Fun," says Molly. "At nap time and bedtime, I have to put them down; he can't be in the room. It's you know, 'Hey, there's Dad. He's fun. What are we going to do? Let's go do backflips in the backyard.'"
Even with Molly being a booster of Kai's pursuit in this extreme sport, there's a natural tension between a settled home life and his ambitions. "I do worry about him more than I ever have," she says. "Before we had kids, I never worried about what he was doing. Never second-guessed it. I do that a lot more now. I was nervous during his first session at Jaws after we had the girls. Luckily he hasn't had to go to Nazare yet." Nazare is the mountainous wave off the central coast of Portugal. Molly has jet-skied out to the breaks at both Pe'ahi and Nazare, to spend time out in the deep water channels and study the waves. Pe'ahi is scary. Nazare is unsettling. "That big Atlantic energy is so raw," Molly says.
"At my peak, I thought all of the time about the ways that Kai's generation would outdo mine," says Dave Kalama, the Maui big-wave pioneer who has known the Lenny family for decades. "There is a perpetual push to go faster, higher, or bigger."
As Robby Naish, the 24-time world windsurfing champion told me, "The whole genre of being an athlete is evolving because of the internet and social media. The demand for content is never-ending. Guys are starting to put their lives at risk for that 17 seconds of video. There's a fine line he needs to walk."
You become a product of your environment where you grow up.
When Kai and Ridge were kids, their dad, Martin, occasionally took them to a cliff overlooking Maui's North Shore. From that vantage point, Kai watched as a bunch of men from his neighborhood — surfers his dad and mom knew! — shredded 50-foot waves at a reef break a point a half-mile off-shore called Pe'ahi.
This is the late-'90s. By then the surf mags had introduced the place to the world as "Jaws." Before that, locals knew the wave as "Atom Blaster." It breaks roughly six times a year; the result of swell generated by really big storms in the North Pacific sending blasts of energy through ocean deep water for thousands of miles until it hits this fan-shaped reef of volcanic rock creating what might be the most perfect and fearsome wave on the planet. Pe'ahi remained mostly out of reach for surfers: prohibitively big, fast, and too windy to catch waves on a big gun. But these guys from Maui that Kai Lenny watched from the cliff used a Kawasaki jet ski to whip into giant waves with a tiny surfboard strapped to their feet. They called themselves the "Strapped Crew" and in his eyes they were heroic. For years, three of the men Kai watched that day — Laird Hamilton, Darrick Doerner, Dave Kalama — took turns capturing the record for riding the biggest wave. Already going 30 or 40 miles an hour at takeoff, the wave at Pe'ahi provided a transcendent canvas for surfing the kinds of bold, arcing lines that had been the stuff of daydreams previously.
The scene at Pe'ahi enchanted Kai. Around that time, Laird Hamilton moved to the Spreckelsville neighborhood on Maui, just down the road from Kai's parents, to focus on his mastery of the wave. Every afternoon for weeks, Martin walked Kai and Ridge down to Laird's house. They'd ring the doorbell, but for weeks, Laird was never there. One day, Laird answered. Standing in the doorway, Hamilton was a giant — 6-foot-3 and 220 pounds. He graciously greeted Kai and Ridge. During the walk home that afternoon, 8-year-old Kai announced to his dad that he was going to surf Jaws too.
"Kai was a super high-energy kid," Martin tells me. "When he was a baby he looked like he was frustrated in his body — he wanted to move." Martin started Kai in the water when he was a toddler, at Sugar Cove — a little beach about a golf cart's ride away from the Lenny house, where Kai and Molly now take Willa and Senna. "He got clobbered in the shore break. So I taught him how to dive under the wave. And then we put a boogie board in front of him and in no time he's riding waves. Kai was a sponge for learning." At 4, Kai stood up and surfed his first wave. At age 6, he took up windsurfing because it's what his parents did and the alternative was getting sand-blasted while waiting for Martin and Paula to return to shore. "He got the bug really bad," Martin says. He rode a tiny rig with the Mickey Mouse's dog Pluto on the sail.
Kai told me, "I had the best kite surfers, wind surfers, surfers in the world at the famous beaches that I live nearby. And so I got to see them in person, and I'd watch them on all the videos. I'd look through all the magazines and see them. And to me they were like, Superman, Batman, Spider-Man, you know? They were my heroes. It just sort of evolved to the point that I saw no other option growing up, but wanting to become that."
"I was Kai's first sponsor," says Naish. "But before I sponsored him, I gave him equipment. Before seeing the potential, I could see that he was passionate about it. The appreciation he had for what he was doing was the first sign he was going to be something special."
Hoʻokipa — the best windsurfing spot on the planet — served as Kai's playground. It's not an easy place with the currents, razor-sharp reefs, underwater caves, the man-eating fish, territorial locals, and nearly unmanageable tradewinds. Even small mistakes — falls, missed waves, brief lapses in judgment or focus — carry heavy consequences. Survival is not a guarantee. Kai took his share of beatings. At the same time, Martin trained Kai to be as capable, adaptable, and resourceful as his heroes in challenging ocean conditions. "I knew the currents," Martin says. "We would do drills on what would happen on a bigger day if he got washed up on the rocks."
Kai seemed ready to do everything and all at once, but Martin took a more measured approach — he called it "baby steps." He kept a close eye on Kai in the water. He preached a measured approach to boundary-pushing. "You don't just start at the peak" — the most powerful part of the wave — he instructed Kai. "You start on the shoulder of the wave, where it's more manageable. Build skill and confidence."
He made Kai wait to learn kite surfing — a truly terrifying pastime — until he turned 9. At the age of 10, Kai found his way onto the cover of a German surfing magazine. At 12, Kai became the youngest-ever member of the Red Bull team. Kai turned pro in windsurfing in 2009. Around that time, Martin left his job managing Mama's Fish House and started working in real estate. The flexible schedule allowed him more time to manage Kai's ascendant career.
"We made a road map from age 14 to 50," Martin says. "What do you want to accomplish? What are your goals? We created a timeline. Where do you see yourself at 17? Or 24? When you're goal-oriented like that, you're not just waiting for the next event to happen. If you want to accomplish the goals you set, you have to be accountable."
He hit almost every destination on the road map ahead of schedule. Before his 28th birthday, he captured Rookie of the Year in professional windsurfing; KSP Kiting World Champion; the world record in the Molokai-to-Oahu prone paddleboarding race; eight world titles in stand-up paddleboarding (SUP); three international big-wave contest titles and the world's most prestigious big-wave surfing award two years in a row. At 29, he became the youngest person ever inducted into the Surfer's Hall of Fame.
Just as impressive was the way that Kai capitalized on these exploits.
Naish told me that it's no surprise that the business that Kai has built around his surf career has all the hallmarks of a durable, lasting business. "He has a great team," he says. "He's surrounded by people who give him a framework for focusing on being the best athlete he can be."
Kai's brother Ridge runs the media operation and functions as Kai's workout and surf partner. His mother, Paula, helps Kai with vital considerations like diet and recovery. He has a trusted fitness and surf coach, Scott Sanchez. Martin plays a million roles in the Kai Lenny organization, everything from manager, publicist, and coach, to water safety director on big wave days. "Martin has taken the mechanics of the promotional side off of Kai's plate," says Naish. "That allows Kai to focus on his part, which is being the best athlete he can be and a fun, approachable, lively character." According to Naish, who is 6o and still a sponsored athlete, this is the blueprint for a durable career. "He appreciates what he's got — puts fertilizer on it and lets it grow. He lives clean. He doesn't drink, smoke, or do drugs. He's done incredibly well. He could probably walk away now."
It's really a lifestyle. It's a pursuit of happiness. It's part of what we do as humans in our little world on Maui.
Kai has moved on from the road map he created at 14. He still writes down goals in a journal and on a whiteboard. He's still on the hunt for the next crazy ride and still after greatness. But he's equally focused on getting his daughters in the water. Kai says he is not going to push the professional athlete thing with Willa and Senna, even though he's aware they have the genes to be all-time greats. Molly joked with me that Kai is already teaching the girls "air awareness" by "training" them to do backflips. "Willa is definitely going to be the adrenaline junky," Molly says.
"With the girls, everyone's asking me like, 'When are you getting 'em on the surfboard?' 'When are you doing all these sports?'" Kai says, "But I don't think starting earlier is necessarily better."
Kai thinks the right time to start them riding waves is 4 or 5. "That's when you can actually introduce them to some of these sports and push them and they won't have the shock factor of being thrown off a board. It's about timing. Knowing when to push and when to back off. This is what both my mom and dad were really good at. They'd know when to give me that nudge, even if I was scared, but they knew that if I just crossed over that line, I would get to that next level and that next place and I'd be better for it."
Molly told me she plans to home-school the twins. The flexibility will allow them to be together as a family as when Kai goes on extended trips.
At the same time, growing up around world-class waves will give Willa and Senna a world-class education in wave riding.
"I think it'd be hard for them not to love the water just because of where we live," Kai told me the last time we talked. "It's a cultural thing. It's less about sport; it's really a lifestyle. It's a pursuit of happiness. It's part of what we do as humans in our little world on Maui. They'd really have to try to not be into it, to not want to do it. And even if they were into something else, I know better than anyone that, you know, you gotta do stuff that you really love to do. It gives you purpose and it gives you motivation and it makes you wanna wake up early and it makes you wanna be a better person. I don't expect them to become professionals, but I would imagine them just being in love with riding waves and wind."
Photographs by Michelle Mishina
Photo Director: Alex Pollack
SVP Fashion: Tiffany Reid
SVP Creative: Karen Hibbert