Jeremy Allen White's Daughters Will "Hang Onto" His SAG Awards For Him, He Says
Jeremy Allen White had a good night at the 29th annual Screen Actors Guild Awards, and his kids lucked out, too.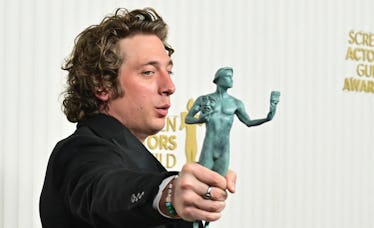 FREDERIC J. BROWN/AFP/Getty Images
Jeremy Allen White had a good night at the 29th annual Screen Actors Guild Awards on Feb. 26. The star of The Bear took home the trophy for outstanding performance by a male actor in a comedy series (though would you really describe The Bear as a comedy?), and he's understandably thrilled about the recognition. But it sounds like the real winner is White's two daughters.
In an interview with People following his win, White shared how he felt about winning the award: "You know, I just love everybody in that room so much. I'm such an admirer of all of them and yeah, it's hard to get up there in front. But I did, and now I'm here, and I feel good, I feel good," he told the outlet.
"It's really special. I think I always dreamed, ever since I was a kid, of finding my circle a little bit, and I've been acting for a long time, and in the recent years, I've started feeling like I'm part of the community and to feel this embraced, it's special, really."
White's wife, Addison Timlin, and their two girls, 4-year-old Ezer and 2-year-old Delores, were also excited over his big win. And he's trusting his daughters with a big role: the job of looking after his statuette.
"They've started calling these Daddy's trophy winner cups, and they really like them, so they can hang onto them for me," he said, adding that it would live in their bedroom.
"They're into them. They really, they're really into them; they're very heavy, so yeah they can't play with them too much but they're definitely excited about it. They'll have fun with this one," said White.
Who knows — maybe they'll eventually be able to with the statuettes like a Barbie or any other doll. But for now, it's adorable they are so proud of their dad.