Jason Ritter Proves You Can — And Sometimes Should — Change Yourself For Love
Jason Ritter is opening up about his struggles with alcoholism and how it impacted his relationship with his now-wife Melanie Lynskey.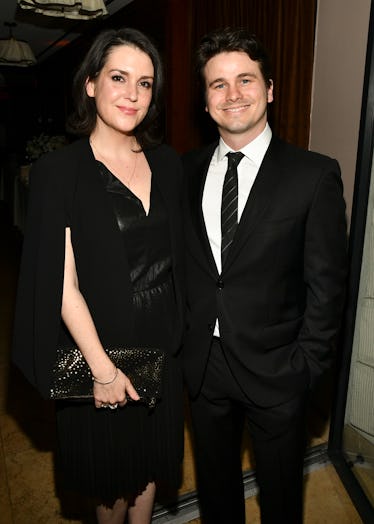 Variety/Penske Media/Getty Images
Jason Ritter is opening up about his struggles with alcoholism, and how it impacted his early relationship with his now-wife Melanie Lynskey. Speaking with Drew Barrymore on her talk show, Ritter shared his experience and how and why he worked on himself to become "the one" for Lynskey.
Ritter and Lynskey were guests on The Drew Barrymore Show when the topic of their relationship came up. The two first met in 2013 after costarring in The Big Ask, then again in 2014 on the film We'll Never Have Paris, and in 2016's The Intervention, according to People. They welcomed a daughter together in 2018 and married in 2020, and during their relationship, Ritter (whose dad is the late John Ritter) has been through some big changes.
Barrymore asked Ritter, "What was your moment when you knew [Lynskey was the one]?"
His answer was a vulnerable, nuanced answer that goes way beyond the surface.
"It's not as cute of a story as you would like to think," Ritter shared. "It was messy and interesting and weird. But mixed in the mix, [I was] dealing with some alcoholism issues."
"At a point, I knew how amazing she was, and I thought she would be incredible for someone who deserved her, basically," he said, with tears in his eyes.
"And I didn't feel like I was that person. I thought [I was] a little bit too crazy," he continued. "So it was only after like maybe a year into not drinking where I started to go, 'Oh, maybe I can promise some things to someone else. Maybe I can be this person.' It's been like a slow burn."
Ritter added, "I knew she was incredible. It was working on myself enough to feel like maybe I can be the one for her, too."
Lynskey, who was sitting next to Ritter during his chat with Barrymore, chimed in to say that she saw all the work he did. "He worked so hard," she said, wiping away her tears. "He did so much work on himself," she shared. "I'm so proud of him."