Jason Momoa's Unexpected Family Hobby Is The Ultimate Parenting Lesson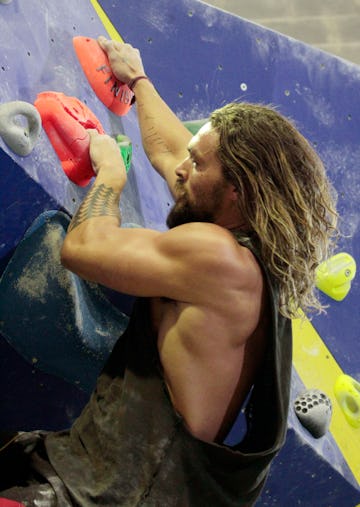 Europa Press Entertainment/Europa Press/Getty Images
Even when superstar Jason Momoa is thousands of miles away from his two kids, 14-year-old Nakoa-Wolf Manakauapo and 15-year-old Lola Iolani, for work, he's found a way to feel like he's just around the corner. And the amazing part is that his shared hobby with his two kids — climbing — also comes chock-full of parenting lessons.
In a cover interview with Men's Health for the magazine's May/June 2023 issue, Momoa opened up about his passion for climbing and the big lessons he learned about himself that he tries to instill in his kids through the sport, too.
While sharing his love for climbing with his kids, he's hoping they'll be able to internalize the lesson of falling when you climb — in particular, that those lessons aren't just about how to better climb rocks, but also how to approach any life struggle.
"There's nothing worth doing if it's not gonna be hard and it's not gonna be a struggle," Momoa said about climbing. "It's okay to fall. You fall, you get back up and do it again. They wanna be perfect and they're afraid; they think if you fall, it's bad."
But he's trying to show and teach his kids the opposite. "But I'm like, 'No, falling is great, man. Falling is great 'cause you're gonna succeed if you keep doing it.' I would never teach acting, but the one thing I could teach is climbing," he continued. "It gives us this massive bond, and we go outside and do it. It's the ultimate thing for me."
As for how climbing helps him as a parent and overall human being? "Climbing is what keeps me grounded in a chaotic world that just wants more of me," he shared, adding that his mother introduced him to climbing when he was a teenager. "It keeps me centered, keeps me in the dirt, keeps me humble, and keeps me stoked."
Climbing is something that helps keeps him connected to his kids, even when he's away from them for long periods of time — like he is now, filming a TV show in New Zealand.
"I make them send me [climbing] clips all the time," he shared. "I'm watching my heart climb up the wall. They're children, but they're so strong and confident and express themselves through movement. Sometimes you have to be dynamic, sometimes static and smooth, and you just get to explore. When they succeed, you feel the moment. I absolutely love climbing and encourage any parent to go experience it with their kids. That's what my mom did with me."
To read the full interview, check out Men's Health.