Jack Black Says Becoming A Dad Forced "An Unexpected Level Of Adulthood"
Jack Black opens up about how parenting changed him, what's different about himself, and what took him by surprise.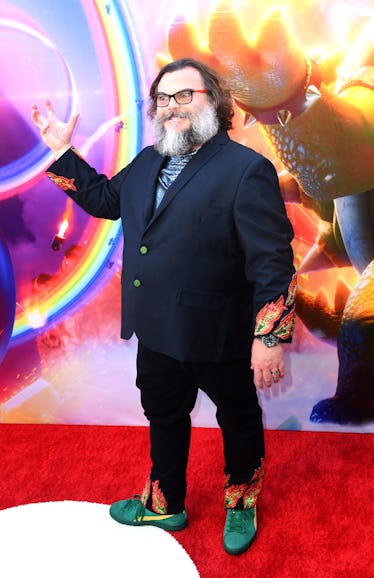 Albert L. Ortega/Getty Images Entertainment/Getty Images
Most of us know Jack Black as the funny guy who can do it all. He's equal parts goofy and talented, which he brings to his work — whether he's acting, singing and dancing as one-half of Tenacious D, or simply posting hilarious TikTok videos. He's also a dad to two boys, who are teens now, and Black recently admitted that having kids forced him to grow up — but in a good way.
In an interview with People, Black shared that having kids and being a parent "makes you look at the world in a different way."
Black shares two sons, 16-year-old Sammy and 14-year-old Tommy, with his wife of 17 years, Tanya Haden. And he admitted that fatherhood shifted what he thought his life would look like and forced him to change.
"When you're looking at it as a parent, it adds a level of unexpected adulthood," Black shared. "Because I spent my whole life going, 'I'm never going to have kids.' Because I'm kind of a kid."
He added, "So it forces you to say, 'Okay. Look, let's be responsible now. Let's figure out the right thing to do in all these different situations.' [Things] that you never really even paid attention to before."
In the interview, Black also shared what surprised him the most when he became a dad, and it's very relatable.
"What surprised me is how much I worry," Black admitted, saying he knew right away after meeting his first child that he "was signing up for a whole lifetime of just wanting the best for them."
"You spend so much time and energy just thinking about that," he explained. "Also, it's harder than you think when you first start. Because you're always wondering, 'Am I doing this right? I don't know if I'm doing the right parenting thing.' But you do the best you can, and you hope for the best."
Black also acknowledged that having the career he has adds some extra stress to his kids' lives.
"I just want them to be happy," he explained. "I mean, the hard thing is that being the child of a celebrity is not easy. It has some special stresses that are not [typical of] normal childhood stuff."