Ireland Baldwin And RAC's New Baby Has A Name That Is About To Trend
Alec Baldwin's a grandfather! And the name? Well, it continues a family tradition.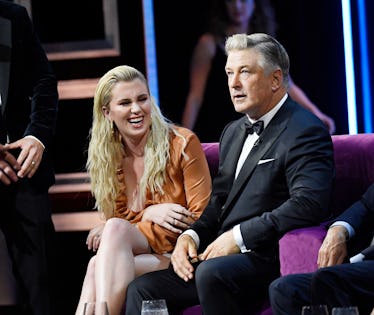 Kevork Djansezian/VMN19/Getty Images Entertainment/Getty Images
Alec Baldwin's a grandfather! Ireland Baldwin shared the happy news that she and her partner, RAC, have welcomed their first child to the world on Thursday, May 18. The announcement came with a photo of the new family and shared a few details, including their little one's name, which continues a family tradition.
The 27-year-old mama, daughter of Kim Basinger and Alec Baldwin, welcomed her first baby, sharing a photo to Instagram to introduce her little one to the world.
Sitting in the hospital bed cradling her baby, whose face is slightly covered by the swaddle blanket, the proud mama smiles at the camera with RAC cuddling in on her shoulder. The caption of the photo was simple — a heart and her daughter's name, "Holland."
In January, Baldwin shared that she was expecting a girl, and they already had a name chosen for her — one inspired by her own unique name.
"We're naming her Holland. I'm Ireland, so another country name because we wanted to keep that consistent," she said on the Girlboss Radio podcast, per People.
"And then I love the actress, Holland Taylor," she continued. "I've always loved that name since I was young, I just thought that was such a classy, beautiful name, so we're going with Holland."
There are a few reasons we love the baby name Holland, not only for Baldwin to continue on her unique geographical name trend. On the whole, geography and travel are common themes for baby names — Brooklyn, Paris, and Phoenix are common ones we've heard several times.
"Holland is one of the coolest geographical names, unadorned and elegant, evocative of fine Rembrandt portraits and fields of pink and yellow tulips," according to Nameberry. "It first entered the US Top 1000 in 2014."
But we really love when people think slightly outside the box while still finding a versatile name, and Holland fits. It's a great option for any gender, perfect for a Marvel fan looking for a subtle nod to the cinematic universe, and it's just really cute.