Jake Johnson From 'Into the Spider-Verse' Is Ready To Talk to Your Kids
Who wouldn't want to hear from Peter B. Parker?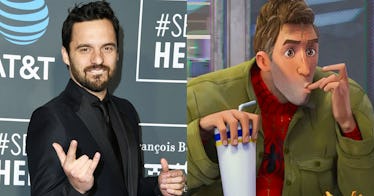 Getty / Sony
Movie theaters might be closed to slow the spread of the coronavirus, but we'd wager that people are watching more movies than ever. A slew of titles that would normally be months away from streaming are already online, and Europe is streaming so much video that folks are worried it might break the internet.
And if Jake Johnson is to be believed, one of the movies that's helping a lot of families make it through these tough times is Into the Spider-Verse. It's a great way to get one hour and fifty-six minutes of peace and quiet out of your kids because, with apologies to Tobey, Andrew, and Tom, it's the best Spider-Man movie ever.
"Since the quarantine a lot of parents have DM'd me saying they've been watching Spiderverse with their kids. A lot," Johnson wrote in the caption to an Instagram photo of his character from the film. And because he's a good guy who, let's face it, probably has a lot of time on his hands at the moment, he decided to do something nice for those kids.
"If your child is home from school and wants a quick encouraging message from Peter B Peter, then send me an email with their name and I'll try and send over a short voice note. If I don't get to you, I apologize."
Johnson joins the likes of Raffi, who recorded a new song about the virus, and Josh Gad, the Frozen alum, who's been reading books to kids on Twitter. Interestingly, Gad appeared alongside Johnson on New Girl, which incidentally is the kind of light, amusing show that parents can binge-watch to soothe their own nerves while stuck at home.
Johnson is clear that he might not get to every request — we'd wager there are already thousands in the inbox — but sending one in is still worth a shot if your kid is a Spider-Verse stan, particularly since you won't be hearing from Peter B. Parker again until April 8, 2022 at the earliest.
This article was originally published on