Hulu Is Offering a Black Friday Deal For $1.99. But How Does It Work With Disney+
It's a great deal, but we all have one question...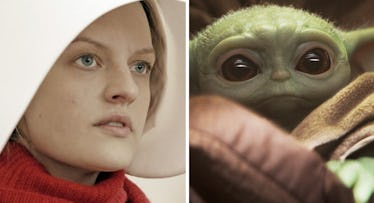 Credit: Hulu; Disney
The best money-saving deal-stealing day is here, and it feels like more companies are jumping on the Black Friday deals to bring in new revenue and new customers. Hulu is even offering a Black Friday deal where new customers can get for a limited time, the ad-supported tier of their service for $1.99 per month for a full year. Typically, this stream tier will cost you $5.99 each month, so there's an undeniable good deal here.
This Hulu offer starts at 12 am PT on November 28th and ends at 11:59 pm PT on December 2nd, and with a 66% discount, it's the best deal you'll find for that service this year. New users can sign up to get this Black Friday deal during this promotional period by heading over to their sign-up page at signup.hulu.com. As we mentioned, this deal comes with the limited-ads tier, so if you want to watch your Hulu shows without commercials, it'll cost you a lot more as that SVOD tier isn't included in the Black Friday deal and is still at $11.99 per month.
OK, all that sounds great, but we all want to know, how does this work with Disney+? Let's take a look.
One big caveat to this Black Friday deal from Hulu is that you're not able to combine it with other offers. Meaning, if you're looking to bundle it with Disney+, you're not going to be able to do so at that $1.99 per month price.
"Offer valid for new and eligible returning subscribers (who have not been Hulu subscribers in the past 12 months) only," their terms of the deal read. Continuing it says this deal is, "Not combinable with any free trial of the Hulu (ad-supported) plan or any other promotional offers or pricing (including the Disney bundle); not redeemable via gift card. Any plan switch after redemption of this offer will result in forfeiture of the discount pricing."
Bummer, right? But all is not lost, there are still some ways to save money. If you sign up for this Hulu Black Friday deal and combine that with Disney+ alone, your grand total is $8.99 per month, saving you $4 a month without ESPN, which comes with the Disney bundle.
This article was originally published on