Hugh Jackman Says Filming 'The Son' Made Him A "Different Parent"
Being a parent is an ever-evolving role.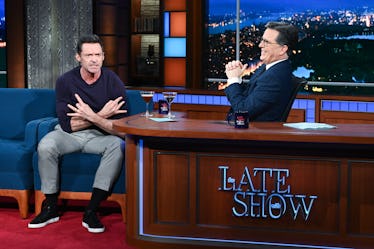 CBS Photo Archive/CBS/Getty Images
Hugh Jackman has taken on several roles in his long career as an actor, and he's tackled it all — from musicals to Wolverine. In a recent interview to promote his upcoming movie, The Son, Jackman shared how his real-life roles as a son and a father shifted after portraying the character Peter, and after his father's passing.
Talking to Stephen Colbert on The Late Show, the 54-year-old dad of two admitted that his movie The Son changed how he saw himself as a son and a dad.
"I think I'm a different parent now because of it," Jackman said, adding that his dad died while he was filming the movie. After it, Jackman approached parenting his 22-year-old son Oscar and his 17-year-old daughter Ava differently.
He explained, "I think I'm more open to being vulnerable with them saying things like 'I'm not sure,' or realizing that sometimes I may be preoccupied by something going on with me — like I'm preoccupied about the opening of The Music Man, for example."
"And then realizing that they may think they've done something and just me not communicating because I'm thinking, 'I don't want to burden them with that,' doesn't help," he added.
"So now I find myself saying, 'Hey guys, sorry if I feel distant, I'm really nervous about this thing and if I've gone off my head, it's nothing to do with you.'"
Jackman shared that adjusting his emotional ability and communication was something his two kids, whom he shares with his wife of more than 25 years, Deborra-Lee Furness, "really appreciate."
"I think that idea of communicating more — not necessarily just because you're the father — and you don't have to know, you don't have to know what to do or what the best thing is, and it's okay to say that," he shared.
To watch his full interview, check out The Late Show With Stephen Colbert. The Son hits theaters on Jan. 20, 2023.