Study: Childcare Costs Have Increased 214 Percent Since 1990
Child care costs are increasing at a rate higher than the cost of pretty much anything else in the United States.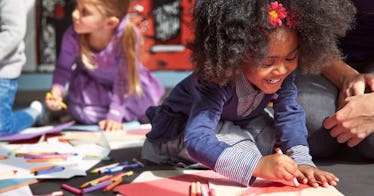 Cavan Images / Getty Images
Surprising precisely no one with children, a recent study determined that, yes, child care is ridiculously expensive. Child care being expensive is just one of those sure things in life like death and taxes. How expensive, and how much more expensive it's become through the pandemic, though, is actually kind of a shock. It turns out that the cost of child care has outpaced inflation by leaps and bounds.
The report, compiled by the non-profit advocacy group Child Care Aware, found that on average, child care for one infant cost an average of $12,300 per year in 2020, an increase of $1,000 from 2019 and a staggering 214% since 1990, according to a different report from First Five Years Fund.
Inflation, which is the measure of the cost increases over time, hit a record high of 7.5% in January of this year, up from 2.1% in January 2019, which means families are shelling out roughly $250 more per month for household essentials like food, utilities, and rent. That's in addition to the approximately $1,025 for child care for one infant. All told, the increasing cost of child care in 2020 topped the cost of inflation by nearly 4%.
Taken altogether, this means that childcare costs are increasing at a rate higher than the cost of pretty much anything else in the U.S. At the same time, the federal minimum wage has stalled at $7.25 per hour—$290 per week or $15,080 per year before taxes—for almost a decade and a half. The U.S. poverty income level is $17,420 for a family of two.
Of course, the toll taken by the pandemic on the child care industry is partly to blame for the sharp increase in child care costs in 2020. From December 2019 through March 2021, the bulk of our months of lockdown, school closures, and work-from-home requirements, Child Care Aware found that close to 9000 child care centers had closed their doors in the 37 states for which the group had data. Additionally, 6,957 licensed home-based child care facilities closed in 36 states.
Fewer options for child care means that one parent, usually the mother, is more likely to leave the workforce to provide care for the children, which in turn means less income, which means less ability to pay for quality child care if admission becomes available at one of the few child care centers that remain. The cycle is difficult to break free of, and for marginalized communities, in particular, adds to the financial strain already present as a result of the Covid pandemic recession and blanket economic inequality in the U.S.
There is a glimmer of hope for families struggling through the child care crisis, though it is only a glimmer. The Build Back Better Act, landmark legislation put forth by the Biden Administration, seeks to address the systemic problems in the child care industry by providing free, high-quality child care to eligible families with children who are not yet kindergarten-age. These costs will be split between the states, which will pay 10%, and the federal government, which will be responsible for the remaining 90% of the costs. Additionally, child care workers would be more fairly compensated for their critical work in holding the U.S. economy together.
Unfortunately, the BBB act essentially ground to a halt in Congress this winter while lawmakers squabbled over the extension of Child Tax Credit payments to families. Though some lawmakers are calling the act "dead," there is hope that Senate Democrats can come to an agreement that provides families with much-needed economic support.
This article was originally published on