Here's Why Home Depot Sales Predict the Housing Market
Want to know if the housing market is heating up or cooling down? Look at Home Depot, apparently.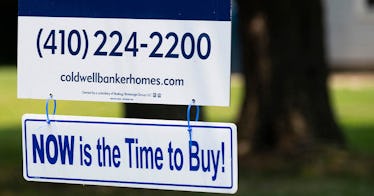 GETTY
Experts and buyers have had their eyes on the booming housing market, but a new sign might point to a plateau or a slowdown.
This past year, the housing market has exploded. The pandemic increased the demand for homes and paired with the tight supply and low mortgage rates, it was a seller's market. As a result, home prices skyrocketed, often going way above the asking price. There's been lots of crystal ball gazing about whether or not the market is slowing down, but recently, one subtle change took place, and it might be a sign that things are slowing or at least reaching a plateau.
Home Depot – a homeowner's favorite place to spend all their money on home improvement projects – saw a dip in sales during its second quarter.
"Although Home Depot's second-quarter earnings and revenue topped forecasts on Tuesday morning, a few stats were concerning," CNN Business explains. "For example, same-store sales growth, which measures how well locations up at least a year are doing, rose just 3.4 percent in the US."
It's a "big drop off" from what the company expected. And it sounds like its competitor store, Lowes, saw similar numbers. "Economists are forecasting a drop in housing starts from June and that building permits will be flat," the publication reports.
Now, of course, several factors could be playing into Home Depot's drop. For example, maybe homeowners did most of their extensive home renovations last year when they had more time (with all the lockdowns), or they've fixed and changed everything already. Or it could be a drop in price since the skyrocketing lumber prices are starting to normalize. Or homeowners' cash is strapped for a variety of potential reasons.
"If prices plateau, it's a neutral conundrum," the Washington Examiner explained after speaking with Patrick Gourley, an assistant professor of economics at the University of New Haven. "Because it means that the housing market isn't getting worse, but it also isn't getting any better for those who want to go out and purchase a home."
Whatever the case, we're sure Home Depot is going to be just fine. And a housing market plateau or dip down is probably better for the majority of people in the country who are trying to buy a house.