How To Sign-Up For The World's Biggest Swimming Lesson — For Free!
On Thursday, the world's largest swimming lesson will take place across 600 swimming pools in 15 countries spanning six continents.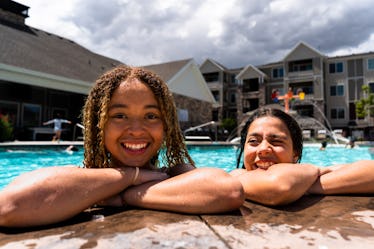 Daniel Ingelhart/E+/Getty Images
On Thursday, June 22, the world's largest swimming lesson will take place. Held across 600 swimming pools in 15 countries spanning six continents, the event will feature 40,000+ children who will be learning to swim, learn water safety, and prevent drowning. And you can even sign your kid up to join the fun.
The World's Largest Swimming Lesson (WLSL) event is presented by the World Waterpark Association with support from several organizations, including the American Red Cross and the National Drowning Prevention Alliance. Olympic swimmer Cullen Jones will also be teaching a class in Phoenix, Arizona.
As Jones told Fatherly in our Outside Issue, there's "an 88% chance that a child will be safer on the water and not drown if they have formal swimming lessons. "Sixty-four percent of Black and Latino American kids don't know how to swim, compared to just 28% of white kids." And what's more, per the WLSL website, more than half of Americans either "can't swim or don't have the necessary swimming skills."
Swimming is more than fun — it's an important safety tool. The AAP states that drowning is the leading cause of unintended death for kids 1-4, and the third leading cause of unintended death for kids and teenagers 5-19. It's also a worldwide leading cause of injury-death for all people of all ages. In other words, knowing how to swim is a huge life skill — one that could save lives.
The event was launched in 2010 to serve "as a platform to help communities build awareness about the fundamental importance of teaching children to swim," the website for the event explains. Since then, "more than 354,000 children and adults on 6 continents have participated in WLSL lessons generating more than two and a half billion life-saving, learn-to-swim media impressions."
For families in Phoenix, AZ, there's an extra special treat this year to mark the 14th annual event, four-time Olympic medalist Cullen Jones is set to attend as host with Leslie's as the sponsor. Jones's involvement in the event is no accident — he's a fierce advocate for teaching kids how to swim, and it's very easy to see why.
"Cullen nearly drowned at age five at a water park in Pennsylvania, and he will share his story with the event participants," the event listing page explains. "He'll be jumping back into an Olympic-sized pool to lead the Phoenix-based swimming lessons next Thursday – teaching 80+ local children how to swim."
Jones previously opened up about that moment. "We went down a water slide, and my dad went down first. I went down second, and my mom went last. But as soon as I hit the pool of water at the bottom of the slide, I flipped upside down and didn't know what to do, and I hadn't had swim lessons," Jones told Fatherly. "I had to be pulled out and resuscitated after being underwater for almost 30 seconds, which is about the point at which a child can start to develop brain damage."
Since retiring from competitive swimming — Jones has 4 Olympic medals for his feats in the pool — Jones has continued to advocate for water safety and providing kids — especially Black and brown kids, who are less likely to know how to swim than white children and have access to pools — access to organized swimming lessons. (The WLSL states that Black people die from drowning at 1.5 times higher rates than white people — and those disparities are highest among Black kids aged 5-9 and 10-14, at 2.6 times and 3.6 times higher rates, respectively.)
Do you want your kids to join in? Check out this map that shows where the swimming lessons will be nationwide and click on locations near you, and visit WLSL's website for more details.