Hasbro Promises to Phase Out Plastic Packaging In All Toys By 2022
Toy giant Hasbro just announced they'll begin to do away with plastic packaging entirely by 2020. To this, parent may rejoice.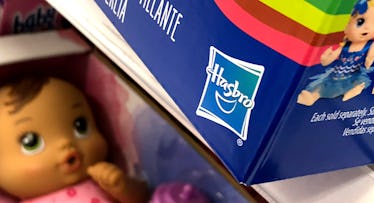 Getty
In a bold move for an industry that is synonymous with plastic waste, excessive packaging, and getting families to buy more petroleum-based products that they don't really need, toy giant Hasbro announced they will do away with plastic packaging entirely by 2022.
Any parent who has felt guilt from that pile of waste a kid leaves in the wake of a holiday can feel a bit better. The 1 million marine animals that suffer plastic-related deaths each year are all clicking, squeaking, and blubbing together, "It's about damn time!"
The announcement is in line with Hasbro's first-of-its-kind toy recycling partnership in which they pay for parents to pack up a box with a wide range of toys (Hasbro and non), and send them to Terracycle, where they become plastic pellets that are then used to create playground equipment, benches, and other such things. That is to say, it's a great start, but there are plenty of barriers ahead.
For one, the program does not help toy recycling. Hasbro toys themselves will still be all but impossible to recycle in local recycling streams. Why? Toys are almost always made of multiple materials and need to be sent to specialty recyclers like Terracycle to make use of them (Hasbro foots the bill for all the recyclable toys sent Terracycle's way through their program).
It also is not a promise to put less plastic in toys or to change to an (arguably) more sustainable plant-based plastic.
Hasbro phasing out plastic packaging offers a loud message. One of the biggest toy companies in the world just said, enough is enough. The plastic-covered arms race that is seen in toys stores over the nation has gone too far.
Just look to LOL Surprise toys, owned by MGA Entertainment (who, it should be said, also have a recycling partnership with Terracycle). These wildly popular toys have made the packaging a massive part of the enjoyment. It's a wasteful gambit that kids love, parents tend to hate, and in no small way add to the plastic floating in oceans across the world.
This announcement and the discussion around plastic waste matters. Half the plastic on this planet was manufactured since 2000. Any step to keep that statistic from inflating is an important one. It can help parents rest a little easier when buying those highly anticipated Ghostbusters product line that Hasbro just gained license to make. It's not nothing.
This article was originally published on