The Director of the First Harry Potter Movie Has the Perfect Idea for a Sequel
We're already sold — can this happen now?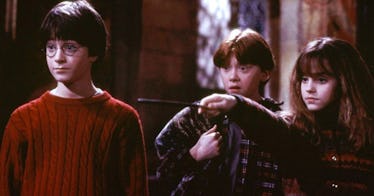 Warner Bros.
Potterheads might have something to look forward to if the franchise's first director has any say. Chris Columbus, who directed Harry Potter and the Sorcerer's Stone and Harry Potter and the Chamber of Secrets, has the perfect idea for a sequel to the story that introduced us to Harry, Ron and Hermione.
In an interview with The Hollywood Reporter, Chris spoke about his time working on the franchise, why he eventually left after the second movie, and his brilliant idea for a sequel that he would jump at the chance to direct.
In the interview Chris talked on how hard he worked to land the role, so some were surprised he chose to leave when he did, after the second movie. But the decision didn't have anything to do with the storyline, just the intense and rigorous shooting schedule.
"Sorcerer's Stone took 160 days of shooting, which is ridiculously long. And then, immediately after we stopped shooting, we started shooting Chamber of Secrets, which was another 160 days," he said. "That's roughly 320 days — not counting second unit — back-to-back shooting."
Chris said at the end of the second movie he "could barely speak," and found himself exhausted, both physically and emotionally. "I wasn't seeing my kids, who were young at the time, growing up. I was missing dinners with them. I thought, 'I can't do another six, seven, eight years of this," he explained. "My kids will grow up and I'll never get to know them."
Even with the schedule of directing such a massive movie like Harry Potter, there is one sequel Chris would gladly take on the challenge. After watching Cursed Child on Broadway, he thinks a movie version needs to happen. And it sounds so perfect it kind of has to happen now.
"A version of Cursed Child with Dan [Radcliffe, who played the role of Harry] Rupert [Grint, who played Ron Weasley] and Emma [Watson, who played Hermione Granger] at the right age, it's cinematic bliss," he said. "If you're a film nerd or cinephile, it's kind of like what J.J. [Abrams] did with Star Wars. Star Wars really started to be great again when J.J. made the film and we had all the original cast back. There's no question if you're a Star Wars fan, you were moved just seeing them on screen, seeing Harrison Ford as Han Solo again — and Chewy."
He continued, "It was very moving. I think that would be the same situation for Harry Potter fans. To able to actually see these adult actors now back in these roles? Oh, yeah. It would be amazingly fun to make that film — or two films."
Sold … we're sold now. Can this happen?