Accio Teddy Bear! Harry Potter Build-a-Bears Are Coming
Well, this is kind of like Harry Potter world.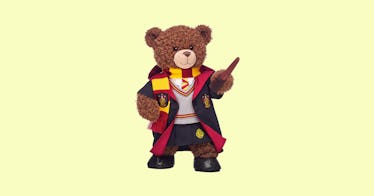 While most kids and families likely aren't planning on going to Harry Potter World in Orlando, Florida any time soon due to COVID-19, that doesn't mean the magic of Hogwarts School of Witchcraft and Wizardry is unattainable. And, to fill the gap of real-life Butterbeers and tours down Diagon Alley and learning Harry Potter spells at school, all of which will be a bit delayed, Build-A-Bear has decided to release some magical stuffed bears for the little witches and wizards of the world. In fact, Build-A-Bear and Harry Potter fanatics can get a stuffed bear in the uniform of their Hogwarts house starting tomorrow, September 2nd — and they can even get the bears online, not risking a COVID-filled trip to a Build-A-Bear store.
That's right, Harry Potter fans! Stuffed bears bedazzled in the red and gold colors of Gryffindor, the green and grey colors of Slytherin, the yellow and black colors of Hufflepuff, or the blue and silver colors of Ravenclaw can be yours. The full uniform includes pants or a skirt, a robe, scarf, and a wand that's either brown or black and is bear-sized, as well as school-appropriate, close-toed shoes and a cute little tie. According to the best bear workshop in the land, while the initial roll-out of Harry Potter bears begins tomorrow, more accessories and costumes will be hitting the website over time — and they'll all be sold exclusively online.
Kids can wait patiently at www.buildabear.com/harrypotter for the stuffed bears to launch — and get their hands on their very own Hogwarts House mascot. Kids and adult Harry Potter fans should get online at 9:30 a.m. Central Standard time on September 2 to enter the "pre-waiting room" for the stuffed bears, and will be assigned a random spot in line once the bears begin to sell. So, make sure you're online tomorrow then — and get ready to start shopping at 10 a.m. (Might we humbly suggest that the next roll-out actually be the animals that represent each Hogwarts House? Who wouldn't love a stuffed lion, snake, eagle, or badger?)
This article was originally published on