A Major Company Just Gave New Grandparents A Week of Paid Leave
While we're still fighting to get paid leave for parents who give birth, this company is doing it right.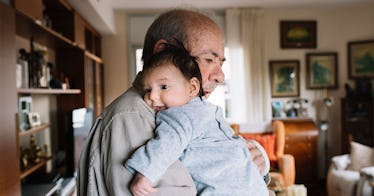 Westend61/Getty
There has been a lot of focus lately on why paid family leave is so important. The United States is seriously lacking in this area – in that there's zero federal plan to ensure new parents have time to spend with their newborns and heal from childbirth. While the fight for paid leave in the United States continues, one major company has gone a step further and is giving new grandparents paid leave. Imagine!
On December 9, 2021, The Guardian reported Saga, a travel and insurance firm in the United Kingdom, has offered paid leave for grandparents, giving people over the age of 50 one week of paid leave after the birth of a grandchild.
"This is about helping new grandparents celebrate a special moment and play a role in growing families from day one," Jane Storm, the chief people officer at Saga, said to The Guardian. "It is also a symbol of how important older workers are to their companies and society.
The company, which employs 2,500 staff, says the policy recognizes that grandparents play a key role in childcare. "Our customers are mostly over 50 and we want to have more colleagues here that reflect the community we serve," Jane continued. "We also think this idea should be a key attraction for retention and recruitment."
Going above and beyond, even more, Saga isn't stopping at offering a week of paid leave for grandparents. The company is also creating an onsite nursery to help employees who already have grandbabies help care for their grandkids. Both new initiatives were created after a company employee survey revealed nearly 25 perfect of employees reported difficulty in balancing childcare commitments and work, according to The Telegraph.
According to a 2018 survey from AARP, 38 percent of grandparents in the United States have some hand in being a childcare provider – whether that's like a part-time babysitter or a daycare provider. Even further, one in 10 grandparents live in the same household as their grandchild, with five percent being the primary caregiver.
While the US still fights to get any federal paid family leave, which is currently being held up thanks largely to opposition from Sen. Joe Manchin, grandparent leave seems like a very distant goal. But we can dream that something similar will be available to us soon.