Gordon Ramsay Revealed His Son's Name With a Perfect Dad Joke
by Amanda Tarlton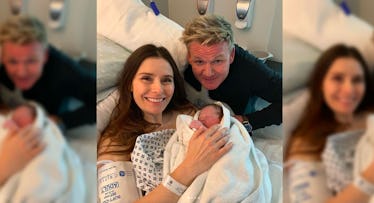 Instagram: gordongram
On April 4, Gordon Ramsay became a father of five as he and wife Tana welcomed a healthy baby boy into the world. And in an Instagram post that same day, the celebrity chef introduced the little Ramsay—and his new name—in the best way: with a dad joke.
"After three BAFTAs and one Emmy . . . finally we have won an Oscar," Ramsay captioned the photo of he and Tana holding their new baby boy. He added, "Please welcome Oscar James Ramsay, who touched down at 12:58 today for some lunch!"
Ramsay also shared three more heartwarming photos of Tana snuggling with baby Oscar. The couple, who have been married since 1996, already have Megan, 21, twins Holly and Jack, 19, and Matilda, 17.
And the 52-year-old is likely happy that the new addition to the family is a boy. On The Late Late Show with James Corden in May, he admitted that he thought the baby would be a girl, which meant "four weddings, all that expense, and four ex-boyfriends to deal with."
In the same interview, Ramsay also revealed that Tana won't let him in the delivery room, calling him a "nightmare" as he always "panics and starts to cry."
The Hell's Kitchen star first announced that he and Tana were expecting back in January, three years after they publicly suffered a devastating miscarriage in 2016. "You realize how lucky you are and you reflect on what you have," Ramsay told the Daily Mail of their loss. "[You realize] how fortunate you are with your remaining children and you remind yourself of what you've got. It's made the family unit even tighter."
This article was originally published on