'Go the Fuck to Sleep' Is Getting a Fucking Sequel
The bedtime book that swears the most is back for more motherfucking swearing.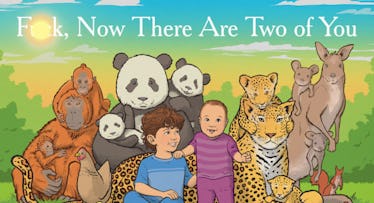 Credit: Akashic Books
In 2011, the bedtime book game was forever changed with Adam Mansbach's epic lullaby, Go the F*ck To Sleep. At the time, the book was a revelation for tired parents who, of course, still love their children, but really and truly need kids to take a break for a bit. Now, eight years later, Go the F*ck To Sleep is getting a fucking sequel, F*ck, Now There Are Two of You.
On October 1, 2019, Akashic books will release the new installment, which, is, technically, the third book in Mansbach's "fuck" series. In 2014, Mansbach released You Have to F*cking Eat, which though isn't a bedtime book, did tackle the frustrating aspects all parents have with mealtime with a toddler.
But, F*ck, Now There are Two of You, seems brilliantly aimed at skewering the frustrating family dynamic of suddenly having two children to deal with instead of just one. Being an American family of four can be tough as shit, and but thankfully, the "fuck" book series is here to help. Will you read these books with your kids? Kind of depends on what sort of parent you are, but at the very least, you can read the book to your spouse after the kids go to bed.
The biggest question that remains is whether or not Samuel L. Jackson will do an audio narration of the new book, just like he did in 2011 for the first book. In a sense, the message of F*ck, Now There are Two of You, won't feel complete until that happens.
You can preorder F*ck, Now There Are Two of You, right here.