These Could Be The Cities That Our Kids Could Move to for Work
Gen Z is ready to take over in a city near you.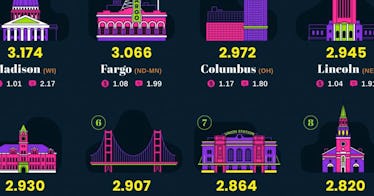 moveBuddha
Time goes by really fast, and nothing solidifies that quite like the reality that Gen Z folks are starting to hit the age where they're moving out of their parent's house to start their own life. Gen Z is defined as people born between 1997 and 2012. For many of us, we're parents to Gen Z, and as they're finishing up high school and heading out to the world, some cities are more apt for success than others. Not all cities are made the same, and some will likely see more Gen Z populations than others. And it's all looking very midwest.
Joe Robinson is a data reporter for moveBuddha. He looked at six social and economic factors, including employment opportunity, youthful populations, rent, cost of living, educational opportunities, and dating potential, and determined the top 25 cities most suited to young professionals, aka Gen Z folks. With this, moveBuddha could predict the American cities that might find themselves more promising to this generation.
To find out the best cities, they collected data using those six factors looking at a mix of numbers from the Census Bureau, Bureau of Economic Analysis, and the National Center for Educational Statistics. From there, they ranked each city on a scale based on how well they stacked up against each other in these key areas. What we're left with is a list of 25 top cities our kids might end up moving to across the United States.
The top five cities our kids may move to include:
Missoula, Montana, with an overall score of 2.930
Lincoln, Nebraska, with an overall score of 2.945
Columbus, Ohio, with an overall score of 2.972
Fargo, North Dakota, with an overall score of 3.006
Madison, Wisconsin, with an overall score of 3.174
Different states pull ahead as the top when the states are broken down into each of the six social and economic factors. For Affordability, it's best met in Cincinnati, Sioux Falls, and Fargo, all of which have lower than average rents paired with stronger spending power. There is a more youthful population and more educational opportunities in Madison. Washington, Arlington, and Alexandria are all cities with more job opportunities for the generation's most popular degrees, including business, health care, and social sciences.
None of this is all set in stone, of course, with just half of the Gen Z population old enough now to head off on their own. But it's interesting to think about how this generation will influence the world once they're ready to take it on and fly on their own.