Driving This Weekend? Get Ready For the Highest Gas Prices Since 2014
Three-day weekend + vaccine = skyrocketing gas prices.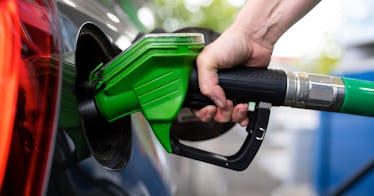 It's officially Memorial Day weekend and thanks to the COVID-19 vaccine, tens of millions of Americans are planning to hit the open road and take a long overdue trip with family and friends. But if you are embarking on a lengthy drive this weekend, you probably should adjust your budget to include extra gas money, as gas prices will hit a seven-year high for Memorial Day weekend.
According to AAA, gas prices are expected to reach a national average of $3.04 per gallon, which is the most a gallon of gas has cost since 2014. This is a dramatic increase from even a month ago when the average price of a gallon was only $2.88.
The reason for the spike is pretty obvious: a lot more people are going to be traveling this weekend because of the vaccine, as well as most people having Monday off for Memorial Day.
In fact, AAA estimates that 37 million people will be traveling this weekend. This would represent a 60 percent increase compared to Memorial Day weekend last year when there was no end in sight to the pandemic. This time last year, the national average for gas prices had dropped all the way down to $1.96 per gallon.
"Ahead of Memorial Day, gas demand is expected to rise as more Americans take to the roads for trips that may have been delayed or avoided because of the pandemic," said Devin Gladden, a AAA spokesperson.
Thankfully, there is no indication of a potential gas shortage this weekend, even with the increased demand. The Colonial Pipeline, which was hacked earlier this month, is back in operation and most drivers should have no problem finding gas.
However, according to tracking firm GasBuddy, there are still nearly 6,000 stations in America that do not have gas. So if you want to make absolutely sure that you don't end up on the side of the road with an empty tank, make sure to fill up early and often.