The FTC And FDA Crack Down On Delta-8 Edibles Packaging — Here's Why That Matters To Parents
The agencies expressed concern over marketing practices they say pose a significant risk to children.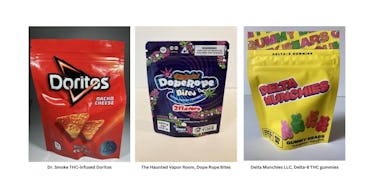 FDA
The Federal Trade Commission (FTC) and the U.S. Food and Drug Administration (FDA) have jointly issued cease-and-desist letters to six companies for marketing edible products containing Delta-8 tetrahydrocannabinol (THC) in packaging that closely resembles popular treats commonly consumed by kids.
According to an FTC news release, the agencies expressed concern over marketing practices they say pose a significant risk to children since the packaging "is almost identical to many snacks and candy children eat, including Doritos tortilla chips, Cheetos cheese-flavored snacks, and Nerds candy."
As reported by the Associated Press, the number of children who accidentally ate marijuana-laced products rose significantly over the past five years as more U.S. states legalized marijuana. Analysis published in the journal Pediatrics found more than 7,000 confirmed cases of children younger than 6 years old who ate edibles laced with marijuana and reported to U.S. poison control centers between 2017 and 2021. The AP says this number rose from approximately 200 cases per year to more than 3,000 per year during that time period.
"Cases of kids eating pot products such as candies, chocolate, and cookies have coincided with more states allowing medical and recreational cannabis use," AP explains. "Currently, 37 U.S. states permit the use of marijuana for medical purposes, and 21 states regulate adult recreational use."
Why Did The FTC and FDA Issue The Warning?
The agencies emphasize the need for responsible and safe marketing, particularly when it comes to protecting children's well-being.
"Children are more vulnerable than adults to the effects of THC, with many who have been sickened and even hospitalized after eating 'edibles' containing it. That's why we're issuing warnings to several companies selling copycat food products containing delta-8 THC, which can be easily mistaken for popular foods that are appealing to children and can make it easy for a young child to ingest in very high doses without realizing it," said Janet Woodcock, M.D., Principal Deputy Commissioner, FDA, in the press release by the FTC.
The cease-and-desist letter was sent to Delta Munchies LLC, Exclusive Hemp Farms, Etienne-DuBois LLC/Oshipt, North Carolina Hemp Exchange LLC, Dr. Smoke LLC, Nikte's Wholesale LLC, and The Haunted Vapor Room with the agencies saying their Delta-8 THC products "mimic a range of food that appeal to children."
For example, Dr. Smoke, LLC sells edible marijuana "Doritos," the packaging of which bears striking similarity to the non-THC Doritos Nacho Cheese Flavored Tortilla Chips. Dr. Smoke also has a similar product that mimics "Cheetos." The other companies sell edible THC-containing candies that look like gummy bears and Nerds Rope candy, per the joint news release.
In the letter, the FDA and FTC urged the companies to review their marketing and product packaging for similar edible THC products and take swift action to protect consumers, especially young children. The companies have been requested to provide details on the actions taken to address the FTC's concerns within 15 days.
What Is Delta-8?
Delta-8 is short for Delta-8 tetrahydrocannabinol. Delta-8 is "just one of more than 100 chemical compounds found naturally" in the cannabis sativa plant, and delta-8 can also be recreated synthetically in labs. (Delta-9 is the main compound in marijuana that gives you the feeling of being "high.") Delta-8 can be sold in gummy and treat forms, or in vapes and flower and produces similar effects of "highness" as marijuana.
Delta-8 THC products are legal and unregulated on the federal level because they're sourced from hemp, not THC. The federal government "defines hemp as any part of the cannabis sativa plant with no more than 0.3% of THC," per USA Today. Over a dozen states have banned the product.
Delta-8 products can be found online or in local stores. The FDA states that these products have not been evaluated or approved by the FDA for "safe use" and "may be marketed in ways that put public health at risk." Because the products aren't regulated like legalized marijuana products sold recreationally or dosed medically, the dosing can be all over the place. The agency urges the public to keep the products out of the hands of kids, citing "numerous poison control center alerts involving pediatric patients who were exposed to delta-8 THC-containing products."
How Is Delta-8 Different Than Marijuana?
Although marijuana is still illegal at the federal level, dozens of states have legalized and regulated marijuana for recreational and medical use. In those states, there are strict laws about how THC edibles can be sold, and the amount of THC that can be in them.
For example, New York law states that all THC products — including edibles — must be sold in a child-resistant package and cannot be marketed in a way that might attract kids. In Colorado, all cannabis edible products must have standardized symbols on opaque packaging, must be less than 10 milligrams per serving, and each serving must be individually wrapped in child-safe packaging.
The New York Times reports: "The regulatory system for recreational marijuana makes it a safer product than [Delta-8]... manufacturing quality checks [are] important public health standards. In theory... labeling rules about potency and recommended dose of a product — plus confirmation requirements for those labels — should protect consumers. None of those protections exist for delta-8-THC." Still, experts think the product shouldn't be banned — but regulated.
How Can I Keep My Kid Safe From Delta-8 Or THC Products?
If you're a parent who uses marijuana, there are some important safety tips to always keep in mind. The most important of them is to purchase and use a lockbox to store your weed and marijuana products away from the kids safely. These can be easily picked up at your local hardware store or online. Keep that lockbox out of sight and reach of kids.
Talk to your older kids about marijuana to remove the mystery of it and frame it as adult medicine, and open a line of communication so your kids feel comfortable coming to you with questions. Don't smoke or eat edibles in front of your kids because those behaviors will be modeled, and kids could also think what you're eating is also candy, piquing their curiosity and potentially posing a safety risk.