Mister Rogers Used Tactical Farts to Make His Wife Laugh
Like the kids he spent a lifetime entertaining, Mr. Rogers though farts were hilarious.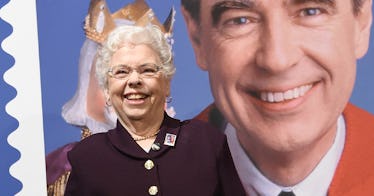 GETTY
It's no secret that we're big fans of Fred Rogers around here. From his no-bullshit philosophy to his ability to communicate with his young audience to, yes, his snackability, there's a lot to like about the guy.
And now we can add another to the list: Mr. Rogers thought farts were funny.
We have this tantalizing piece of information thanks to Joanne Rogers, his wife from 1952 until his death in 2003. She's become something of a legacy protector since she lost her husband, and part of that role is serving as a consultant on Rogers projects like A Beautiful Day in the Neighborhood.
The writers of that film approached Joanne to get her blessing for their project, which tells the story of journalist Tom Junod's relationship with Rogers, played by Tom Hanks. Noah Harpster, who co-wrote the film, says that "She really only had one request: that we not treat her husband as a saint."
Joanne also wanted the film to portray her husband as the funny, down-to-earth person that he was and not the sort of saintly figure he's sometimes remembered as.
She told that paper that Fred's go-to way of making her laugh was farting.
"He would just raise one cheek and he would look at me and smile," Joanne told the paper, cracking herself up as she remembered it.
Now, a lot of people might this kind of behavior gross or crude if they were on the, ahem, receiving end. But it's hard to argue that this anecdote doesn't make Rogers seem more human and thus even more likeable.
This article was originally published on