A Florida High School Edited Girl's Yearbook Photos. It's Super Sexist
"They need to recognize that it's making girls feel ashamed of their bodies."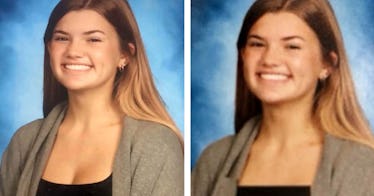 Bartram Trail High School Yearbook via New York Times
A Florida high school has found itself in the middle of controversy after several female high school students noticed their school yearbook photos had been edited without permission. One student is speaking out, saying these edits leave her feeling sexualized. Other students and parents demand an apology for "body shaming" due to the school's sexist dress code.
According to The New York Times, at least 80 female students at Bartram Trail High School in St. Johns County, Florida, were shocked to open their yearbook to see their images had been digitally edited. Riley O'Keefe, a 15-year-old student in the ninth grade, heard whispers in the hallway that the yearbooks didn't look as expected. And when Riley got a copy herself and opened it to the page where she was featured, she was upset.
"They need to recognize that it's making girls feel ashamed of their bodies," Riley said after noticing her image was digitally altered to include a black bar along the neckline of her shirt and down the side, removing any hints of curves in her chest. And she wasn't the only one – dozens of other students had similar edits, but only the girls.
"At least 80 photos of female students were altered," The New York Times reports. "No pictures of male students, including one of the swim team in which the boys wore Speedo bathing suits, were digitally altered, according to [Riley] and parents who saw the yearbook."
Adrian Bartlett, a mother of one of the students at the school, said her daughter's photo was edited in the chest and added more coverage. "I think it sends the message that our girls should be ashamed of their growing bodies, and I think that's a horrible message to send out to these young girls that are going through these changes," Adrian said to USA Today.
Since, students and parents have demanded the school issue an apology for the sexist edits. However, the school points to its yearbook policy which states the photos "must be consistent with the St. Johns County School District Student Code of Conduct or may be digitally adjusted."
This isn't the first time this same high school has come under fire over the sexist dress code. In March, administrators had the kids line up in the hallway and publicly called out several females or pulled them from class for violating the dress code.
The dress code and the edited yearbook photos have seen the school administrators called out for sexism on social media and are urging an end to these rules that seem to only target girls. But so far, it doesn't look like administrators are budging.
This article was originally published on