Fauci's Halloween Message to Families: Go Trick-Or-Treating!
"It's a very important part of the year for children."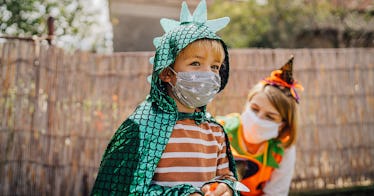 Last year, Halloween wasn't as fun as it usually is for families. With the pandemic and no available vaccines at the time, trick-or-treating was considered high-risk and experts advised sticking to low-risk activities. But, there's good news for this year's spooky celebrations – according to experts, trick-or-treating is a go for families. Here's what you need to know.
In 2020, many families opted to do their celebrations at home because of the pandemic. Instead of the typical door-to-door treat hunt in costumes, families had more low-key Halloweens. Kids rocked their outfits in their house, attended virtual costume parties, and binged the Halloween movie classics.
But thankfully, this year, we can return to a closer normal Halloween, aka trick-or-treating is back! Dr. Anthony Fauci, the nation's top infectious disease expert, gave parents and their kids a bright ray of hope this year.
During an appearance on CNN's State of the Union with Jake Tapper, Dr. Fauci said trick-or-treating should be closer to normal this year, especially since it's an outdoor activity. "I think that, particularly if you're vaccinated, you can get out there … and enjoy it," he said according to CBS News, when asked about trick-or-treating.
"This is a time that children love. It's a very important part of the year for children," he explained. Dr. Fauci noted that the best way to protect ourselves and our kids for activities like trick-or-treating is to get vaccinated. He said getting fully vaccinated will "add an extra degree of protection to yourself and your children and your family and your community."
Fauci's guidance follows what Dr. Rochelle Walensky, the director of the Centers for Disease Control and Infection (CDC), said earlier this month when asked about trick-or-treating. Dr. Walensky did caution people to be safe and smart, saying that activities outdoors offer more protection. However, she also recommended parents and kids should still "limit crowds" and think about the activities they take part in and exposure risk.
"I wouldn't necessarily go to a crowded Halloween party, but I think that we should be able to let our kids go trick-or-treating in small groups," Dr. Walensky previously said. "I hope that we can do that this year."
Hopefully, this time next year – after vaccines are approved for the younger kids, which could happen later this year – these concerns will be a thing of the past. Until then, we must be mindful of the risks and plan accordingly. Both Dr. Fauci and Dr. Walensky strongly recommended families who are eligible for a vaccination get vaccinated.