Fatherly Is Testifying to the House About Paid Leave. Here's Why
On Thursday, Fatherly's co-founder, Mike Rothman, is testifying in front of the House Ways & Means Committee to advocate for federal paid leave.
by Fatherly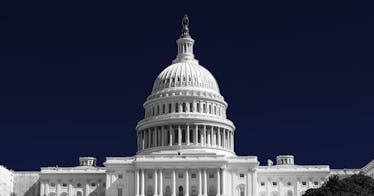 GETTY
On Thursday, May 27, in a live stream that starts at 10 a.m. EST, Fatherly's co-founder Mike Rothman is testifying for the House Ways & Means Committee on the importance of, and urgency for Congress to pass, federal family and medical leave.
As a company, Fatherly was born out of the acknowledgment that dads have been underserved in traditional media and haven't been recognized for their changing role as caregivers and at times primary parents.
Fatherly's mission is to empower men to raise great kids and lead more fulfilling lives. We do this, primarily, through journalism, offering expert-driven resources for dads on everything from public policy to developmental milestones to how to talk to teachers to the best games for kids and how to divide labor fairly in a relationship.
To that end, advocating for gender-neutral, inclusive, federal paid family and medical leave has been a part of the mission editorially since nearly day one. From deep interviews to investigative reports and our Best Places to Work guides, Fatherly has focused on federal paid leave — and the vast importance it has to dads, moms, daughters, sons, and siblings. It has become one of the linchpins of our public policy coverage.
As a result of this focus on paid leave as well as his own experience running a small business, Mike Rothman will testify to the House Ways and Means Committee about the importance and necessity of passing a federal paid leave plan in the United States.
Why push for paid leave? For one, nearly every other developed and wealthy country in the world has some form of paid leave from 2 to 21 months. In fact, the United States stands alone in how little it provides to working parents, and how much it expects from them in return.
Here are five other reasons we're testifying.
Ultimately, the fight for paid leave can't stop at good companies doing the right thing. Because for as long as that happens, only those with salaries and full-time jobs will have access to an essential benefit offered around the world, and having access to this essential benefit will make workers subject to what they do.
Universal paid parental leave would be a massive step forward for workers, employers, and families in the United States. It's time.